1,338 rhinos killed across Africa in 2015 : IUCN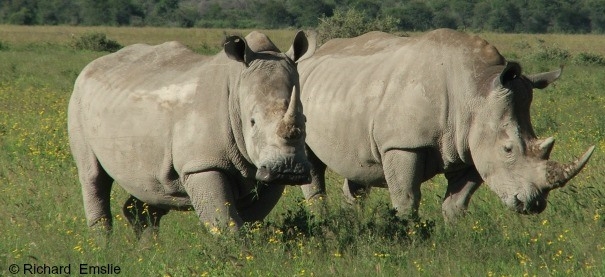 TravelBizNews —
Gland : The number of African rhinos killed by poachers has increased for the sixth year in a row with at least 1,338 rhinos killed by poachers across Africa in 2015, according to new data compiled by International Union for Conservation of Nature (IUCN) Species Survival Commission's African Rhino Specialist Group (AfRSG).
This is the highest level since the current crisis began to emerge in 2008. Since then poachers have killed at least 5,940 African rhinos.
Demand for rhino horn from South East Asia is being illegally supplied by sophisticated transnational organised crime networks. "The extensive poaching for the illegal trade in horn continues to undermine the rhino conservation successes made in Africa over the last two decades," says Mike Knight, Chair of IUCN's AfRSG, which just concluded its biennial meeting.
However, increased law enforcement effort and expenditure in recent years have coincided with a slowing down in the rate of increase of poaching continentally from 2013-2015. Over the last two years, poaching has declined in Kenya and, for the first time since 2008, the number of rhinos poached in the major range state, South Africa, fell slightly last year (including in Kruger National Park).
"This is testimony to the valiant and enormous efforts underway – often against overwhelming odds – to curb the losses," says IUCN Director General, Inger Andersen. "It also demonstrates the commitment of field rangers who – at tremendous cost to themselves and their families – work tirelessly, risking their lives daily. Sadly, these improvements have been dampened by alarming increases in poaching over the past year in other vitally important range states, such as Namibia and Zimbabwe."
The continued poaching has impacted on rhino numbers. According to the experts who met recently in South Africa, numbers of the more numerous white rhino (Ceratotherium simum) appear to have levelled off on the continent, with 2015 numbers provisionally estimated at between 19,682 and 21,077. While the total white rhino estimate is down -0.4% per annum since 2012 (compared to the updated 2012 estimate), this difference is within the margin of error around the estimates and not statistically significant.
The black rhino (Diceros bicornis) – listed on The IUCN Red List of Threatened Species™ as Critically Endangered – has fared slightly better with continental numbers for 2015 estimated at between 5,042 and 5,455 rhinos, representing a statistically significant +2.9% per annum increase on the updated 2012 estimate. Poaching has, however, reduced growth in black rhino numbers to below the usual +5% per annum target growth rate.
South Africa currently conserves 79% of Africa's rhinos and has suffered the bulk (85%) of poaching on the continent since 2008. The country's vast Kruger National Park is home to the world's largest rhino population and has borne the brunt of the killing. While the margins of error around the Kruger National Park rhino population estimates between 2012 and 2015 overlapped, statistical modelling suggests that in all likelihood the populations of both black and white rhinos have decreased in the Park. This has however been countered by net increases in the numbers of black and white rhino elsewhere in South Africa and other countries.
Rhinos lost to poaching also represent a significant loss of revenue for African countries, reducing incentives for the private sector and communities to conserve rhino. Based on recorded average live rhino sale values from some major sellers, rhinos killed illegally in 2015 in South Africa alone represent an estimated loss of around US$25 million. The meeting heard how substantially increased security costs and risks to staff and rhinos, coupled with declining and limited economic incentives, is resulting in increasing numbers of private white rhino owners in South Africa selling or looking to sell many or all of their white rhino. Poaching threatens to reduce the range area available to rhino in future as well as cutting conservation agency revenue and budgets.
Wildlife crime is just one form of organised criminal activity undertaken by powerful transnational crime syndicates that also traffic in drugs, weapons and people. These criminals are now widely recognised as a global challenge and threat to national security. Such networks control much of the illegal trade in wildlife, destabilising communities and countries and corrupting government officials and structures. There is worrying evidence of the increasing involvement of Chinese citizens along with nationals from South East Asian countries like Vietnam, Laos and Thailand, as well as North Korea, in the illicit trade in rhino horn.Source: IUCN
March 9, 2016