2nd China (Zhejiang) International Travel Agents Conference focus on tourism promotion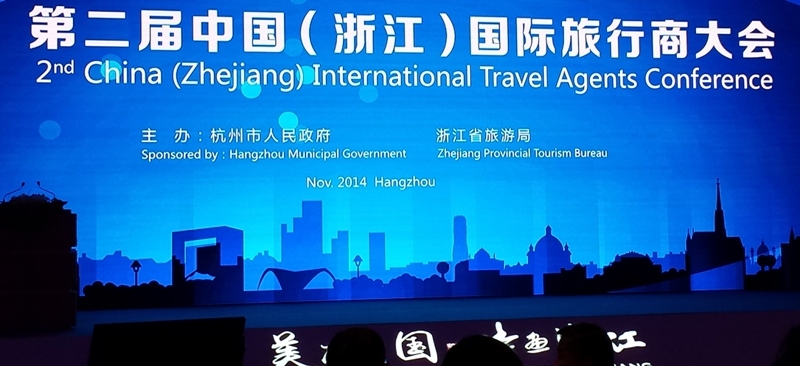 By Ramesh Tiwari ———–
Hangzhou, China: The 2nd China (Zhejiang) International Travel Agents Conference has underlined the need to strengthen mutual cooperation to promote tourism.
The 2nd China (Zhejiang) International Travel Agents Conference here on November 10 – 11, 2014 was organised by Zhejiang Provincial Tourism Bureau and Hangzhou Municipal People's Government.More than 400 delegates from 51 countries including USA ,Canada,France and Germany participated in the conference.
The international conclave is organized every two years to strengthen communication and cooperation with travel agents and build a win-win platform for development of tourism industry.
Hundreds of travel agencies based in Hangzhou , Ningbo, , Wenzhou, Jinhua, Huzhou and Lishui of Zhejiang Province of China are involved in promoting tourism with different countries of the world.
On the occasion , Vice Mayor of Hangzhou Municipal Government Zhang Jianting highlighted on rich tourism products of Zhejiang Province of China.
Zhejiang is one of the popular tourist destination in China for domestic and foreign visitors. More than 400 million persons-time domestic and foreign tourists visited different places of Zhejiang in 2013 .
A large number of travel agencies based in the province participated in the ' Travel Agents Matchmaking Session ' of the conference.
During the CZITAC , Secretary of Party Committee , Zhejiang Provincial Tourism Bureau Wang Wenjuan,Regional Director of PATA Greater China Office Wu Bo, Deputy Director of Zhejiang Provincial Tourism Bureau Xu Peng , Deputy Director of Asia Tourism Exchange Centre Zhang Jianzhong,and Sukhvinder Dhami of Skylink Travel Canada highly evaluated on incredible tourism resources of the province.
" Zhejiang's beautiful natural scenery is as famous as its cultural heritage, and it is known as "the land of fish and rice, the place of silk and tea, the region of culture, and the destination of tourists". The popular tourism products including West Lake, Fuchun River ,Xin'an River,Qiandao Lake, Putuo Mountain, Yandang Mountain, Mogan Mountain, Tiantai Mountain, Nanxi River, Shengsi Islands, Shuanglong Cave, Xiandu, Xuedou Mountain, Jianglang Mountain, Xianju and other scenic spots attract millons of tourists in the Zhejiang Province, located in the southern part of Yangtze River Delta of the southeast coast of China ".
Hangzhou, the provincial capital of Zhejiang, is one of China's seven ancient capitals and one of China's popular destination.
Nov. 11, 2014