International Tourism Mart concuded in Shillong,India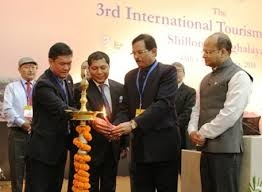 Staff writer ——
Shillong,Meghalaya , India – Tourism Minister Shripad Naik urges North-Eastern states of India to complete central projects in time to enhance tourist infrastructure in the region
The 3rd International Tourism Mart, organized by the Ministry of Tourism, Government of India, in association with the North Eastern States and West Bengal was officially inaugurated in Shillong, Meghalaya. The International Tourism Mart was inaugurated by Dr. Mukul Sangma, Chief Minister of Meghalaya in the presence of Shri Shripad Naik , Union Minister of State for Tourism and Culture. The Mart is being held from 13th – 15th October, 2014
Speaking on the occasion, the Union Minister of State for Tourism and Culture (Independent Charge), Shripad Naik said that there has been a substantial increase in inbound tourism during the recent months. There has been a growth of 16.9 per cent in Foreign Tourist Arrivals(FTAs) in India during August, 2014 over August, 2013 as compared to a growth of 9.1 per cent registered in August, 2013 over August, 2012, he said.
Similarly the growth rate of FTA's in July 2014 was three times the growth realized in the corresponding month of 2013. hesaid that the Ministry is working out an action plan for cleanliness of tourism spots in the country. This is sought to be done with the active participation of the private sector in order to build up the necessary tourism infrastructure which will facilitate travel and hospitality, he said.
The Minister stressed the need to develop niche and the Innovative tourism Products and Services which should be the focus areas for State Governments and the Private Sector. The Minister elaborated that concerted efforts are required to develop Adventure Tourism, Eco Tourism, Rural Tourism including Home Stays, Birding Tours etc in the region. He asked the North-Eastern States to prepare a tourism festival calendar well in advance and take up publicity of the same both in domestic and international markets.
The Union Minister also urged the participants to discuss the new tourism products of the North East region and to use the Mart as a platform by the tourism stake holders from the North East region to interact with their International counterparts and also with the tour operators from other regions of the country.
An Exhibition was also inaugurated at the venue where all the participating states were given booths to exhibit their tourism products. A Special website of the event has been created with all information about the event which can be accessed from the URL itmnortheastindia.in
This is the 3rd International Tourism Mart organised in the North East with the objective of highlighting the tourism potential of the region in the domestic and international markets. Over 50 buyer delegates from ASEAN and SAARC countries, Japan, Korea, Australia, France, Spain, Russia, Germany, Italy, Switzerland, Sweden, U.K. and USA are participating in the Mart according to a release of Press Information Bureau of India .
Oct. 14, 2014