Representatives from 53 countries participate in Himalayan Travel Mart 2017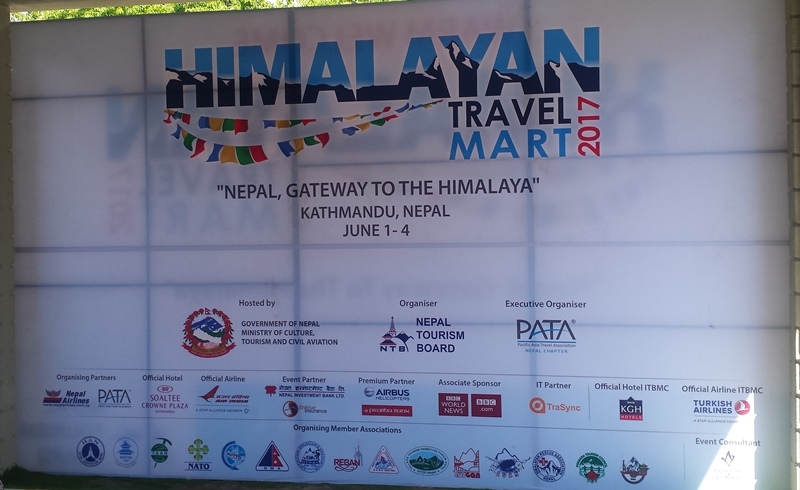 Ramesh Tiwari /TravelBizNews —
Kathmandu: Renowned travel entrepreneurs and personalities have focused on integrated approach and joint efforts to develop tourism industry keeping in view the changing travel trends in hospitality industry in the world.
Keynote speakers representing different international tourism organizations and countries focused on collective efforts and use of social media during Himalayan Travel Mart (HMT) conference held here this week.
President Bidya Devi Bhandari , in her inaugural address , hoped that the conference being organized with the theme of 'Nepal Gateway to the Himalayas' would contribute to promote Nepal's tourism all over the world .
"Nepal is one of the best destinations for the tourists in the world. The Himalaya Travel Mart would deliver message to the world that Nepal is safe for tourists to visit even after the 'Gurkha Earthquake' of April 2015, "she added.
Addressing the inaugural ceremony, Managing Director of Air India Ashwini Lobani suggested that information technology, security and connectivity should be Nepal's priority for development of tourism infrastructure.
Earlier, Shankar Prasad Adhikary , Chairman of the HTM Organizing Committee and Secretary of MoCTCA, highlighted on major tourism products of Nepal during HTM conference on ' Nepal , Gateway to the Himalaya '.
Chairman of PATA Nepal Chapter Suman Pandey said the Himalayan Travel Mart would be a grand tourism event to put 'Nepal: Back on the top of the world ', speed up the recovery of Nepal's tourism and establish Nepal as the 'Gateway to the Himalaya'.
Immediate Past Chairman of PATA Andrew Jones said: "The Himalayan Travel Mart is a continuation of PATA International's commitment to the development of responsible and sustainable tourism in Nepal and the region."
Jones urged the international travel bloggers, buyers, sellers and the foreign delegates to enjoy unique attractions, including beautiful scenery, world heritage sites, culture, cuisine and friendly hospitality of Nepal.
President of Adventure Tour Operators Association of India Swadesh Kumar , highlighting on different aspects of fastest growing adventure tourism and mountaineering expeditions , stressed to ensure safety standards to develop mountain tourism . He urged entrepreneurs of Nepal to participate in travel marts and conferences for development of tourism between the two countries.
On the occasion, a fireside chat was organized with CEO of PATA Dr. Mario Hardy and CEO of NTB Deepak Raj Joshi focusing on role of social media by BBC correspondent Ms.Yogita Limahe .
Distinguished speakers representing different organizations shared their opinion and experiences in connection with the trends of tourism on innovative marketing, digital marketing, aviation, hospitality, Himalayan tourism and event management.
Similarly, Founding Director of Avant-Guide Institute Trends Consultancy, global editor of wiki trends –US Daniel Levine , leader of first Singapore Everest Expedition 1998- Singapore David Lim , Founder of Mountain High and leader of mountain expeditions – Dubai UAE Ms. Julie Lewis , former CEO of NTB Prachanda Man Shrestha , former President of IATO and Chairman Stic Travel Group of India Subash Goyal , hotelier and motivational speaker of Thailand Bert Van Walbeek and founder of Mountain Travel and promoter of Nepal tourism Robin Marston presented their papers on Himalayan tourism , mountaineering and development .
The first session of the conference was chaired by former secretary of Nepal government Dipendra Purush Dhakal .
Likewise, CEO of PATA Dr. Mario Hardy, Hong Kong based chief of destination marketing and sales at Trip Advisor Ms. Sarah Matthews, founder and CEO of e-Tourism Frontiers of South Africa Damian Cook and President Tang Dynasty Tours – China Michael Zhou presented their papers on innovation and marketing during second session of the conference chaired by Mark Wright, Founder and Marketing Director of Adventure Connection.
The Himalayan Travel Mart (HTM) 2017 kicked off here on June 1 starting with International Bloggers and Media Conference. More than 100 international bloggers and journalists attended the conference.
A large number of buyers and sellers representing 53 countries from Asia, Europe, North America, South America and Australia attended the B to B event of Himalayan Travel Mart, including 43 sellers representing different agencies of Nepal.
More than 250 representatives from 53 countries are participating in the four-day event organized by Ministry of Culture, Tourism and Civil Aviation ( MoCTCA ) ,Nepal Tourism Board (NTB) and Pacific Asia Travels Association (PATA) Nepal Chapter.
Photo : TravelBizNews.com
June 3 , 2017