65.3 m people displaced by war and persecution in 2015 – UN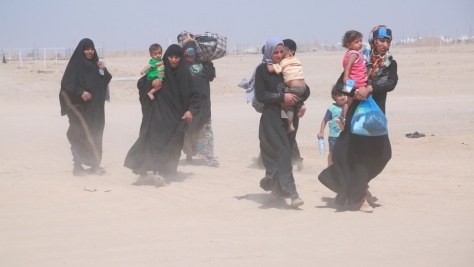 Geneva (UNHCR) – Wars and persecution have driven 65.3 million people from their homes according to a new report released by the UN Refugee Agency.
The report, entitled Global Trends, noted that on average 24 people were forced to flee each minute in 2015, four times more than a decade earlier, when six people fled every 60 seconds.
The detailed study, which tracks forced displacement worldwide based on data from governments, partner agencies and UNHCR's own reporting, found a total 65.3 million people were displaced at the end of 2015, compared to 59.5 million just 12 months earlier.
"More people are being displaced by war and persecution and that's worrying in itself, but the factors that endanger refugees are multiplying too," said UN High Commissioner for Refugees Filippo Grandi.
"At sea, a frightening number of refugees and migrants are dying each year; on land, people fleeing war are finding their way blocked by closed borders. Closing borders does not solve the problem."
The report found that, measured against the world's population of 7.4 billion people, one in every 113 people globally is now either an asylum-seeker, internally displaced or a refugee – putting them at a level of risk.
Also in the tally are a record 40.8 million people who had been forced to flee their homes but were within the confines of their own countries, another record for the UN Refugee Agency. And there are 21.3 million refugees.
The rate at which people are fleeing war and persecution has soared from 6 per minute in 2005 to 24 per minute in 2015, according to UNHCR figures.
The study found that three countries produce half the world's refugees. Syria at 4.9 million, Afghanistan at 2.7 million and Somalia at 1.1 million together accounted for more than half the refugees under UNHCR's mandate worldwide. Colombia at 6.9 million, Syria at 6.6 million and Iraq at 4.4 million had the largest numbers of internally displaced people. – UNHCR / June 20 , 2016