Nepal welcomed 598,204 tourists in 2012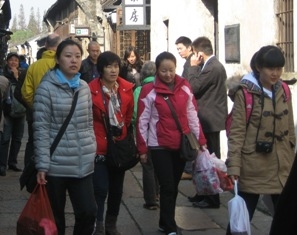 Kathmandu: The total number of tourist arrivals by air in aggregate (Jan-Dec, 2012), compared to same period in 2011, have increased by almost 10 per cent to 598,204.
The total tourist arrivals in 2012 were 598,204 that were 53,219 more visitors in same period (Jan-Dec) of 2011.
According to Nepal Tourism Board, the year 2012 has concluded with positive notes both in terms of total visitor arrivals for the month of December and also for the whole year.
The figures released by Immigration Office, Tribhuvan International Airport (TIA) reveal that visitor arrivals in the month of December 2012, compared to the same month last year, have increased by 2.4 per cent to 44,774.
Arrivals from Asia (other than South Asia) segment have registered a positive growth of 15.1 per cent in the year 2012. In December 2012, arrivals from this segment has recorded positive growth of 10.3 per cent in aggregate with Malaysia , Japan , Singapore , and Thailand . However, China and South Korea have registered negative growth of 3.1 per cent and 1.6 per cent, respectively, compared to the same month last year.
The South Asian segment has also registered a positive growth of 10.4% in the year 2012. The arrivals from Pakistan and Sri Lanka have grown by 4.1% and 20.6% respectively but arrivals from India and Bangladesh have declined by 10.4% and 19.7% respectively in December 2012.
A total of 164,680 tourists from India visited Nepal in 2012,whereas the number of tourists visiting Nepal ( by air ) is 53,373 from China, 41908 from USA and 24321 from Japan.
An overall positive growth of 3.5 % has been observed from the European markets in the month of December 2012 and 4.5% in the year 2012. Arrivals from the UK, Austria, France, Germany, Italy, the Netherlands and Poland, are up by 11.9%, 25.6% 14.3%, 23.7%, 10.3%, 14.2% and 114.3% respectively. However, Belgium, Spain and Russia have posted a negative growth of 22.8%, 27.7% and 32.5% respectively .
Arrivals from the Oceania (Australia and New Zealand) and North America (Canada and USA) recorded overall positive growths in the year 2012 by 15.1% and 10.4% respectively. Tourist arrivals from Australia, New Zealand, Canada and USA have registered remarkable growth of 24.4%, 20.3%, 7.5% and 4.9% respectively in December 2012 compared to 2011.
In 2012, total foreign tourist departures, Nepalese arrivals and Nepalese departures are at 688,566; 736,679 and 862,416 respectively. A total of 54,885 foreign tourists departed from TIA in December 2012. The number of Nepalese arrivals stood at 61,823 while 93,133 Nepalese departed from TIA in December 2012.
According to the United Nations World Tourism Organisation (UNWTO) international tourism has witnessed a moderate growth in 2012 with over one billion international tourist arrivals. One billionth mark is a new record for international tourism – a sector that accounts for one in every 12 jobs and 30% of the world's services exports. Further, the UNWTO asserts that the comparative strength of tourism in a period of continued economic uncertainty is confirmed by the positive trend on tourism earnings and expenditures.
Globally, international tourism results have so far not been seriously affected by the economic volatility, with growth continuing above the average of 3.8 per cent a year projected for the decade 2010-2020 according to UNWTO's long-term forecast Tourism Towards 2030. The UNWTO estimates that for 2013 growth is expected to continue but at a more moderate rate in the range of 2 per cent to 4 per cent , NTB reports.