Airline profitability strengthens,$29.3 billion in 2015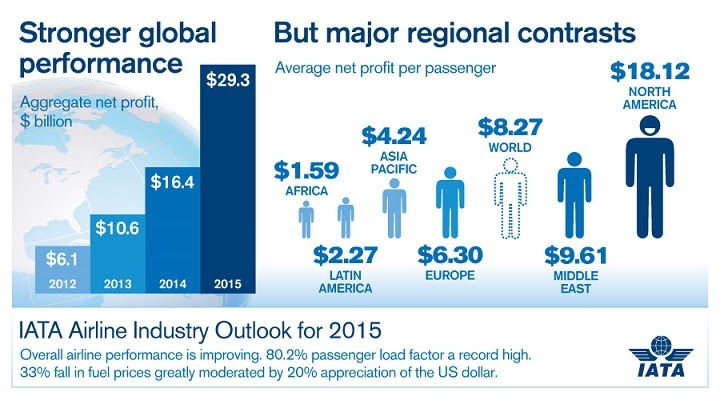 TBN Post —
Miami – The International Air Transport Association (IATA) announced an upward revision of its 2015 industry outlook to a $29.3 billion net profit. On expected revenues of $727 billion, the industry would achieve a 4.0% net profit margin.
The significant strengthening from the $16.4 billion net profit in 2014 (re-stated from $19.9 billion) reflects the net impact of several global factors, including stronger global economic prospects, record load factors, lower fuel prices, and a major appreciation of the US dollar.
All regions are expected to see an improvement in profitability in 2015 compared with 2014.There are, however, stark differences in regional economies, which are also reflected in airline performance. "The industry's fortunes are far from uniform. Many airlines still face huge challenges," said Tony Tyler, IATA's Director General and CEO.
Over half the global profit is expected to be generated by airlines based in North America ($15.7 billion). For North American airlines, the margin on earnings before interest and taxation (EBIT) is expected to exceed 12%, more than double that of the next best performing regions of Asia-Pacific and Europe.
All regions will see improved profitability in 2015 compared with 2014. They will also see capacity expansions but these are expected to broadly match the expansion in demand. This aligns with the global expectation for capacity to expand 6.2%, slightly behind the projected 6.7% increase in demand. Aside from these few similarities, the regions are expected to deliver widely divergent levels of profitability.
Carriers in North America are expected to generate a profit of $15.7 billion (up from $11.2 billion in 2014) for a net margin of 7.5%. On a per passenger basis this translates to an average profit of $18.12. Airlines in the United States have been able to use this profitability to invest in new fleet, pay down high levels of debt and deliver a normal return to investors through dividends and share buy-backs.
Carriers in the Asia-Pacific region are expected to generate a $5.1 billion profit for a 2.5% net margin ($4.24/passenger). Asia-Pacific airlines have about a 40% share of the global air cargo market.
European airlines are expected to post a collective profit of $5.8 billion in 2015 for net margin of 2.8% ($6.30/per passenger). The prospects for airlines based in the region have improved slowly over the last two years.
Latin American airlines are expected to return a net profit of $600 million for a net margin of 1.8% ($2.27/passenger). This follows breakeven performance in 2014.
Middle Eastern airlines are expected to post a collective $1.8 billion net return for 2015 for an average net margin of 3.1% ($9.61/passenger).
African airlines are expected to post a collective profit of $100 million for a net margin of 0.8% ($1.59/passenger), the thinnest of all regions.
Aviation's global connectivity now spans 16,485 city-pairs (2014), which is nearly double the number in 1994. This connectivity is a catalyst for economic benefits for users and the wider economy. Over that same period, average airfares have fallen around 64% (after inflation), which has been a major stimulus for trade, tourism, and foreign direct investment associated with global supply chains.
The number of aviation jobs is rising although the pace of hiring is expected to taper slightly in 2015. Total direct employment in the sector is expected to reach 2.5 million (up 3.1% on 2014). – IATA , June 2015