Airlines Operators Association Nepal elects new leadership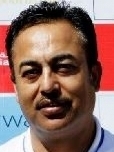 Travel BizNews —
Kathmandu: Senior tourism entrepreneur Pavitra Kumar Karki has been elected President of Airlines Operators Association of Nepal (AOAN).
The Annual General Meeting of Airlines Operators Association of Nepal (AOAN) unanimously elected a 12-member executive committee.
Newly elected President of AOAN Karki is Managing Director of Air Dynasty.
Similarly, Rajendra Bahadur Singh, Norbu Tshering Sherpa, Manoj Karki , Raju Neupane and Rupesh Joshi are elected 1st vice-president , 2nd vice-president , general secretary, secretary and treasurer respectively.
The AGM elected Gopal Bhattarai, Ashish Sherchan , AD Rai , Anil Manandhar and Sudhir Sharma as the Executive members in the new leadership.
Likewise, Bikash SJB Rana (Fishtail Air), Rameshwore Thapa (Simrik Airlines), Birendra Bahadur Basnet (Buddha Air), Dawa J Sherpa (Mountain Heli Services), Ang Tshering Sherpa (Yeti Airlines), Binod Singh Basnyat (Sita Air), Rajendra Shakya (Simrik Airlines), Binod Thakali (Prabhu Helicopter) and Bal Krishna Shrestha (Makalu Air) are members of the Advisory Council of AOAN.
Airlines Operators Association of Nepal, established in 1999, promotes safe and secure operation of flight in the country.
Sixteen domestic private airlines – Air Dynasty ,Air Kasthmandap ,Buddha Air ,Goma Air ,Fishtail Air,Makalu Air,Manang Air ,Mountain Helicopters ,Prabhu Helicopter ,Saurya Airlines ,Shree Airlines ,Simrik Air ,Simrik Airlines ,Sita Air ,Tara Air and Yeti Airlines are associated with the association.
Feb. 13, 2016