Alexandre De Juniac – new Director General and CEO of IATA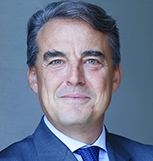 TravelBizNews —
Montreal – The International Air Transport Association (IATA) announced that Alexandre de Juniac has officially taken on the role of Director General and CEO of the organization.
He succeeds Tony Tyler, who served as IATA DG and CEO since 2011 and had announced his retirement.
De Juniac was confirmed by the 72nd IATA Annual General Meeting this past June to be the seventh person to lead IATA. He brings diverse experience to the association, including leadership roles in the airline and aerospace sectors as well as in government.
"IATA's mission is to represent, lead, and serve the airline industry with global standards. For me that means we must use change as a catalyst for innovation to please customers and contribute positively to the business of our members," said de Juniac.
De Juniac emphasized the need for industry stakeholders, especially governments, to recognize the value that aviation creates. "The numbers are clear. Air transport supports an impressive 63 million jobs and some $2.7 trillion in economic activity. But that's only a part of the value that aviation creates.
"Our industry is in the business of freedom. We help people to explore the planet, to do business globally, to bridge cultures with friendships and understanding, and to enjoy better lives through the prosperity that connectivity creates. Aviation changes our world for the better. And as the industry's global advocate, my mission is to rally our partners to ensure that nothing impedes the business of freedom," said de Juniac.
Sept.7 , 2016