"Amazing Thailand Tourism Year 2018" to boost Thai reputation as a preferred destination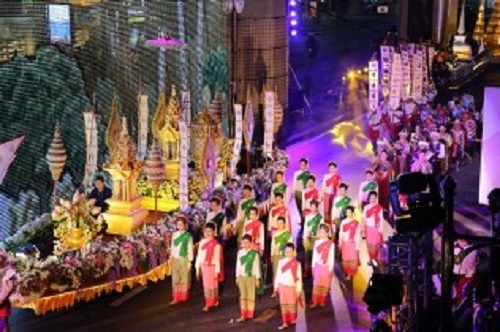 TravelBizNews—
Bangkok: The Tourism Authority of Thailand (TAT) kicked off the ambitious "Amazing Thailand Tourism Year 2018" campaign with a spectacular procession through the heart of Bangkok recently.
The opening ceremony, held at Siam Discovery, was presided over by General Tanasak Patimapragorn, Deputy Prime Minister of Thailand, and brought to life the campaign's focus on sustainable, quality tourism in line with the Sufficiency Economy Philosophy.
On the occasion , Minister of Tourism and Sports Mrs. Kobkarn Wattanavrangkul hoped that programme of major events throughout the "Amazing Thailand Tourism Year 2018" will once again put Thailand in the spotlight as a preferred destination for international travellers.
The procession featured six parades, which joined a 3.5-km route from the National Stadium to Lumphini Park. Each parade represented a treasured aspect of Thai tourism, with the first showcasing the Lotus Goddess, a symbol of the "Amazing Thailand Tourism Year 2018", signifying harmony and happiness.
The "Amazing Thailand Tourism Year 2018" aims to boost Thailand's reputation as a preferred destination, while increasing visitors' average length of stay, expenditure and repeat visitation.
The campaign places the spotlight on activities in 13 categories: sports, gastronomy, maritime tourism, weddings and honeymoons, medical and wellness, community-based tourism, leisure, green tourism, night tourism, MICE, trade fairs, B2B marketing activities and logistics. Each of these categories has a packed schedule of local and international events according to a release issued by TAT.
Meanwhile , Thailand welcomed over 28.8 million international visitors from January to October 2017 and earned 1.47 trillion Baht in tourism revenue.
The precise number of overseas tourists for the 10 months of January to October was 28,824,753, an increase of 6.69 percent over the same period of 2016. Tourism revenue generated was 1,472,698.81 Baht, up 9.31 percent over the 2016 period.
Among source markets, Southeast Asia stood out with 29.38 percent growth in tourists sent to Thailand during October. The top 10 individual markets were China, Malaysia, Lao PDR., South Korea, India, Japan, Russia, Cambodia, the US and UK.
Yuthasak Supasorn, Tourism Authority of Thailand Governor, commented: "With the launch in November of the TAT's new 'Amazing Thailand Tourism Year 2018' marketing concept, which focuses on segments like sports, gastronomy, weddings and honeymoons, luxury and community-based tourism, we're confident of even higher visitor growth."
Thailand's domestic tourism sector also showed positive growth.
The Ministry of Tourism and Sports highlighted the main reasons behind the growth in tourist numbers and revenue, including the International Civil Aviation Organisation's lifting in October of the red flag imposed on Thailand since 2015 over significant safety concerns in its aviation sector.
Nov. 2017