Anthony Lark appointed MD and General Manager of Trisara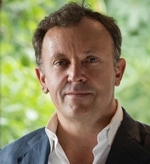 Phuket: Montara Hospitality Group has appointed Anthony Lark as Managing Director and General Manager of Trisara, the 48 pool villas and 20 privately owned residences resort. In this new role, he will also continue to provide hospitality advisory services to the clients of the Group, and will develop the next generation of young hoteliers to steer the group's careful expansion.
Anthony has enjoyed considerable success with over 25 years of experience leading luxury hotel groups in the region. Born in Sydney, Australia, he started his career by working his way through all departments at the Wentworth Hotel Sydney, after which his experience includes the Regent (now Four Seasons) Sydney, Amanpuri and several Aman resort properties.During his illustrious career, he has worked alongside some of the greatest leaders in the hospitality industry.
In 2000, Anthony joined Trisara during its development and design period. Since opening in 2004, Trisara has been the recipient of many accolades and awards, including Robb Report, 'Resort of the Year', and Best Leisure Resort, Worldwide 2014 by the readers of the Gallivanter's Guide, plus Condé Nast Traveller's Gold list for 2015.
"Anthony was the first General Manager of Trisara and he helped us build the foundation, which made us successful. We are pleased to have him back on board to ensure that the resort continues to evolve to serve the changing needs of our clients.The last two years were record breaking years for Trisara. Thanks to a new organization structure with centralized sales and marketing, we were able to achieve the best business results since opening 10 years ago. With greater focus on service and guest experience, Trisara has secured the top position on TripAdvisor which we consider a great achievement," said Bill Black, President, Montara Hospitality.
-Trisara Phuket March 24, 2015