ASEAN Ministers urge more accessible tourism, 125 million international tourists in 2017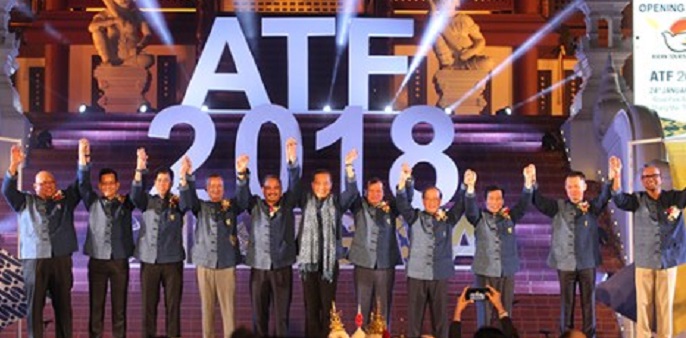 Chiang Mai, Thailand ( TATnews) :  Association of Southeast Asian Nations (ASEAN) tourism ministers have called for stepped up efforts to make the pleasure of travel more accessible to people with disabilities, senior citizens, women and children.
The call was made in an official statement issued at the end of the 21st tourism ministerial meeting held recently, under the chairmanship of Weerasak Kowsurat, Minister for Tourism and Sports of Thailand.
The Ministerial meeting is one of the most important components of the annual ASEAN Tourism Forum (ATF) held from 22-26 January 2018 in Chiang Mai with the theme of "ASEAN – Sustainable Connectivity, Boundless Prosperity".
The focus on making tourism more accessible and inclusive was one amongst a wide range of items on the ministerial agenda along with cruise tourism, gastronomy tourism, overland cross-border travel, promoting investment, human resources development and more.
The statement noted that in 2017, which marked the 50th anniversary of the 10-country grouping, ASEAN is expected to receive 125 million international visitors, exceeding the target of 121 million set by Visit ASEAN@50 commemorative campaign.
Intra-ASEAN travel accounted for 42% of total international arrivals. The average length of stay was 7.98 days, and the 10 countries are estimated to have generated USD 93 billion from tourism in 2017.
The focus on accessible tourism is particularly important in the light of ageing societies in many ASEAN and Asian countries. The ministerial statement said it was a follow-up to the decision made during ATF 2017 and the results of UNWTO's World Tourism Day 2016 in Bangkok.
The Ministers encouraged member states to further invest in related tourism infrastructure to further realise market potential by bringing better accessibility for all particularly to people with disabilities, senior citizens, women and children.
The ministers are also seeking to maintain the momentum built from the Visit ASEAN@50 Campaign by building more marketing partnerships with the private sector in ASEAN and worldwide.
One of the most important developments for ASEAN tourism will be the signing of the ASEAN Framework Agreement on Facilitation of Cross Border Transport of Passengers by Road Vehicles (CBTP) by ASEAN Transport Ministers. This will promote overland travel between ASEAN Member States, particularly those traveling by bus and coaches.
Two studies have been completed on "Promoting Drive/Overland Tourism Across ASEAN through Recognition of Domestic Driving Licenses Issued by ASEAN Countries", and "Promote Development of Road Connectivity along Major Tourism Corridors".
Noting the potential of cruise tourism in a region dominated by some of the world's most beautiful islands, the Ministers urged greater clarity in cruise-related policies and regulations, efficiency in processes, responsibility in business practices and capacity building.
Acknowledging the integral role of gastronomy in building a competitive destination brand, the ministers encouraged intra-ASEAN cooperation to support sustainable food production and consumption, and promote deeper understanding on gastronomic tourism in Southeast Asia.
The ASEAN Tourism Standards Awards this year included 47 awardees for the ASEAN Green Hotel Award, 47 awardees for the ASEAN MICE Venue Award, and 23 awardees for the ASEAN Clean Tourist City Award.
ATF 2019 is to be held from 14-18 January 2019 in Ha Long Bay, Viet Nam with the theme "ASEAN-the Power of One".
Jan.28 2018