Asia's largest travel mart CITM 2013 to kick off in Kunming, China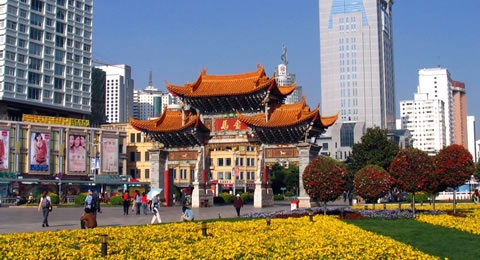 Kunming: The 2013 China International Travel Mart (CITM) will kick off here on October 24 amidst a grand ceremony in Kunming International Convention & Exhibition Center.
According to officials of Yunnan Provincial Tourism Administration, the 2013 China International Travel Mart will be the largest session of CITM involving more than 100 participating countries and regions, foreign delegations and 1110 overseas buyers.
The program of CITM has been streamlined to contain seven events including delegation leaders' meeting, the symposium on marketing of China's international tourism brands, the symposium on marketing and cooperation in an era of smart tourism and the 1st China Yunnan International Automobile Camp.
The CITM will also be highlighted by opening of the camp assembling 500 enthusiasts in the Stone Forest Scenic Area, as well as the exhibition on automobiles and equipments for campers.
China International Travel Mart (CITM) is the largest professional travel mart in Asia being held each year in Shanghai and Kunming alternately. The China International Travel Mart has become an important platform for domestic and foreign tourism professionals to conduct exchanges and cooperation to promote inbound and outbound tourism.
A large number of exhibitors representing government tourism agencies from different parts of the world, travel services, hotels, tourism and scenic spots, airlines, pleasure ships, tourism websites and tourism professionals will participate in the CITM here.
CITM 2013, jointly organized by China National Tourism Administration, Yunnan Provincial People's Government and Civil Aviation Administration of China, will be held in Kunming International Convention & Exhibition Center from October 24 to October 27.
CITM 2012 was held in Shanghai last year on November 14 – 18 with participants from over 40 countries and a total 2514 booths displayed. More than 7054 contracts were signed involving transaction of nearly 800 million RMB during the 2012 CITM held in Shanghai.
Kunming, the capital city of Yunnan Province, is one of the major cities in Southwest China and the gateway of China to Southeast and South Asian countries.- TBN