BRICS countries emphasize greater cooperation on tourism development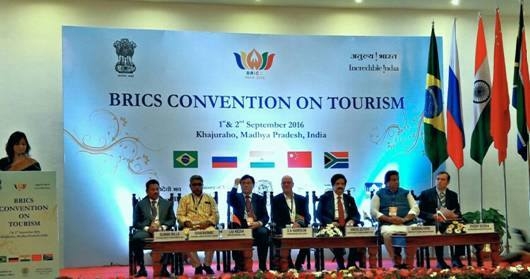 TravelBizNews —-
Khajuraho , India: Tourism Ministers of BRICS countries have urged for greater cooperation among the member countries for mutual benefit of travel and tourism.
The BRIC countries label refers to a select group of four large, developing countries – Brazil, Russia, India and China. .The four BRIC countries comprise more than 2.8 billion people or 40 percent of the world's population, cover more than a quarter of the world's land area over three continents, and account for more than 25 percent of global GDP.
Tourism Ministers of BRICS countries concluded their two – day convention at the world-famous temple city Khajuraho of Madhya Pradesh on September 3.
Addressing the conference, Madhya Pradesh Tourism Minister Surendra Patwa said tourism would get a major boost with the participation of BRICS nations.
Secretary (Tourism), Government of India Vinod Zutshi stressed on the importance of the tourism sector as a major catalyst for economic growth and a source of job creation. He welcomed the cooperation extended by all the BRICS nations for mutual growth of tourism between the member countries.
On the occasion, Minister of Tourism, South Africa D.A. Hanekom expressed pleasure for holding the BRICS Convention on Tourism in the historic temple town of Khajuraho .He proposed constituting a permanent BRICS Working Stream on Tourism comprising of the stakeholders of the Government and private sector.
Heads of the delegation of China and Russia emphasized greater cooperation among the member countries for the mutual benefit for the growth of tourism and looked at the convention as a platform to interact with the travel industry partners.
Ministry of Tourism organized the "BRICS Convention on Tourism" on September 1- 2, in Khajuraho Madhya Pradesh as a precursor to the BRICS Summit to be held in Goa on October 15-16, 2016.
The event comprised of inter- governmental exchange of views and ideas, panel discussions on technology, innovation in tourism, and cooperation between the BRICS countries for promoting intra-regional tourism.
B2B meetings between the India travel trade and their counterparts from the BRICS countries were also organized during the conference.
Post-convention Familiarization tours for the BRICS delegates would cover important tourist destinations in Madhya Pradesh, Uttar Pradesh and Bihar, including Varanasi- Bodhgaya, Agra, and Bhopal-Sanchi- Bhimbetka according to a statement of Ministry of Tourism of India.
Sept.3 , 2016