BRICS leaders pledge to work for equitable global economic order , issue Xiamen Declaration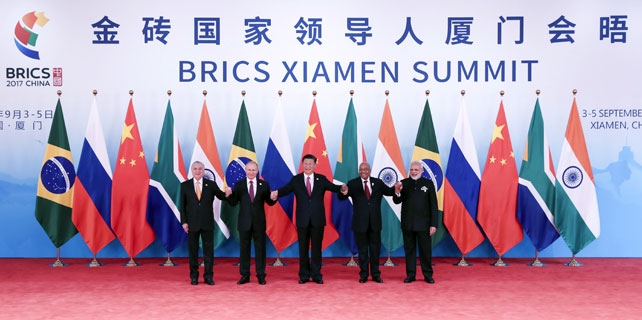 TravelBizNews Online —
Xiamen , China : BRICS leaders have pledged to energize practical cooperation, foster a just and equitable global economic order, safeguard world peace and promote people-to-people exchanges.
President of People's Republic of China Xi Jinping , Brazilian President Michel Temer, Russian President Vladimir Putin, Indian Prime Minister Narendra Modi and South African President Jacob Zuma concluded their meeting in Xiamen, China, at the Ninth BRICS Summit.
Under the theme "BRICS: Stronger Partnership for a Brighter Future", the leaders committed to endeavor to build on achievements already made with a shared vision for future development of BRICS.
They also discussed international and regional issues of common concern and adopted the 71-point Xiamen Declaration by consensus.
"BRICS countries will strive towards broad partnerships with emerging markets and developing countries, and pursue equal-footed and flexible practices and initiatives for dialogue and cooperation with non-BRICS countries, including through BRICS Plus cooperation."
BRICS leaders welcomed the creation of the BRICS E-Port Network and the establishment of the BRICS E-Commerce Working Group. They agreed to promote the development of BRICS local currency bond markets and to facilitate financial market integration.
"We encourage explorations toward the establishment of the BRICS Institute of Future Networks. We will enhance joint BRICS research, development and innovation in information and communications technology, including the internet of things, cloud computing, big data, data analytics, and nanotechnology, artificial intelligence, 5G and their innovative applications."
The leaders committed to strengthen BRICS cooperation on energy, foster open, flexible and transparent markets for energy commodities and technologies.
The leaders strongly deplored the nuclear test conducted by the DPRK and called upon the international community to establish a genuinely broad counterterrorism coalition and support the UN's central coordinating role in this regard.
"We emphasize the importance of people-to-people exchanges in promoting development and enhancing mutual understanding, friendship and cooperation among BRICS peoples, "Xiamen declaration states.
China pledges 77million $ for cooperative ventures
China will set aside 500 million yuan ($76.61 million) for economic and technological cooperation and exchanges among BRICS countries, President Xi Jinping said while calling for joint efforts to open the bloc's second "Golden Decade".
In his speech addressing the plenary session of the BRICS Summit, Xi also announced an injection of $4 million into the project preparation fund of the BRICS-led New Development Bank for the bank's operation and long-term development.
"A partnership forged with the right approach defies geographical distance; it is thicker than glue and stronger than metal and stone," Xi said, quoting an ancient Chinese proverb.
Although the five countries have different national conditions, their pursuit of partnership and prosperity is shared, enabling them to go beyond disagreement and achieve mutual benefits, he said.
Xi called on the BRICS countries to strengthen their compatibility regarding resources, markets and labor forces to release the countries' growth potential.
Noting that only 5.7 percent of the BRICS countries' total $197 billion outbound investment took place among the five countries last year, Xi said that there remains huge potential for economic cooperation among the BRICS members.
The five countries should increase cooperation in sectors such as trade and investment, monetary and financial areas, connectivity, sustainable development, innovation and industrial cooperation, Xi said.
The 10th BRICS Summit will be held in South Africa in 2018.
( Inputs from BRICS events)
September 5 , 2017