BRICS Summit concludes in Goa, 9th summit in China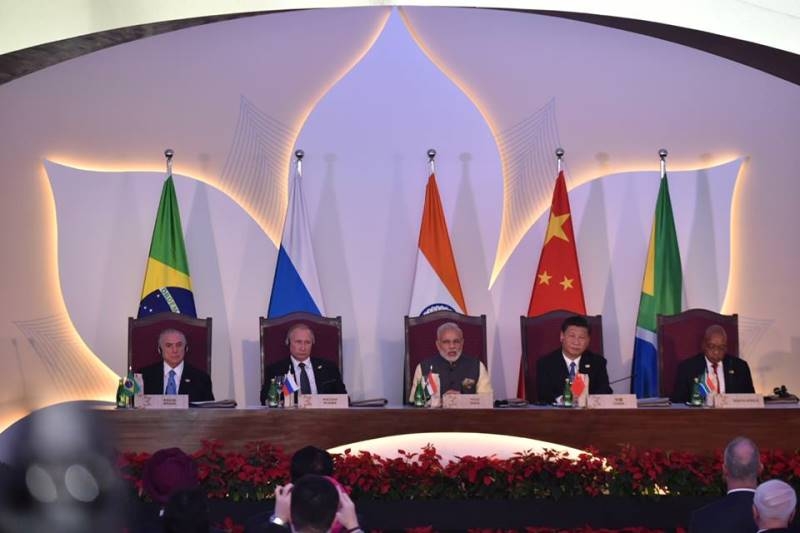 TravelBizNews Bureau —
Goa (India) : The eighth BRICS Summit concluded here today issuing Goa Declaration with focus on comprehensive vision for cooperation and coordination, within BRICS and on international issues.
President Xi Jinping of China. President Jacob Zuma of South Africa , President Michel Temerof of Brazil , Russian President Vladimir Putin,and Indian Prime Minister Narendra Modi exchanged views on important global issues, including terrorism, global economic scenario, and the need to reform the global governance architecture according to a statement issued by Prime Minister of India.
The leaders discussed on possibilities for BRICS future expansion in years ahead during the plenary session of the summit.
" We were unanimous in recognizing the threat that terrorism, extremism and radicalization presents, not just to the regional and global peace, stability and economic prosperity, but also to our society, our way of life and humanity as a whole, " Modi said in his statement.
The leaders recognized the positive contribution of BRICS countries' to global economic growth after the 2008 financial crisis.
"We feel that it is necessary for economies to make public investments in long term infrastructure projects, coordinate macro-economic policy, drive growth, and promote world trade and manufacturing with renewed vigour," Modi said.
"We were united in our view to establish the BRICS Agriculture Research Platform, BRICS Railway Research Network, BRICS Sports Council, and various youth-centric fora. "
Similarly , the Heads of State, Heads of Government and Leaders from Bangladesh, Bhutan, Myanmar, Nepal, Sri Lanka, and Thailand and India, who collectively constitute the BIMSTEC, were in Goa as the special guests to 8th BRICS Summit. The first BRICS-BIMSTEC Outreach Summit focused on prospects for closer partnership and coordination.
BRICS and BIMSTEC countries represent two thirds of humanity. With 1.5 billion people and a combined GDP of 2.5 trillion US Dollars, the countries of BIMSTEC have shared aspirations for growth, development, commerce, and technology.
Similarly, BRICS represents large emerging economies, G-20 member-states and 2 permanent members of the Security Council.
India, South Africa, Brazil and Russia conveyed their appreciation to China for its offer to host the Ninth BRICS Summit in 2017 .
Oct. 16 , 2016