British chef to cook on top of Mount Qomolangma to set world record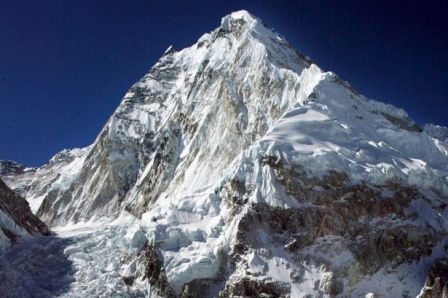 Lhasa : A British chef hopes to achieve a Guinness World Record for the highest formal dinner party by cooking a Michelin-starred three course meal on Mount Qomolangma, said mirror.co.uk.
According to the website, Sat Bains, owner of the two Michelin-starred Restaurant Sat Bains in Nottingham, is taking 'haut cuisine' to extreme lengths. He will be creating his gourmet meal at the mountain's North Col, a sharp-edged pass more than 23,000ft above sea level, in April.
According to the news, Sat has devised a three-course meal that can be rehydrated at altitude: miso soup using melted glacial snow, seaweed, mushrooms, beef bourguignon and caramel popping candy.
"Food tastes different at altitude, so you need to increase the seasoning and have mouth-filling flavors," said the 43-year-old. "Water boils at a lower temperature as well so you have to bear that in mind. Food has to be very nutritious because the Mount Qomolangma challenge is physically demanding."
Mount Qomolangma is the highest peak in the world, which means "holy mother" and represents the mother goddess of the earth. Besides experienced mountaineers, Mount Qomolangma draws scientists and ordinary tourists.
As the highest spot of the world, the mountaintop is covered with snow all year round, and when the glaring sun comes out, the peak becomes pure and beautiful. Apart from that, many precious plants and animals live in the national natural reserves built in the area of Mount Qomolangma.
The north slope of Mt. Qomolangma received a record high of about 59,100 tourists in 2014.
The number is up six percent from the previous year, said Wang Kun, head of Dingri county government in Tibet, where the base camp of Mt. Qomolangma, known as Mt. Everest in the West, is located.
Of the tourists, more than 7,600 were from overseas, mostly from Europe, Wang said. Ticket sales topped 17 million yuan (about 2.7 million U.S. dollars), up four percent from 2013.
Mt. Qomolangma, standing at an altitude of 8,844.43 meters, is the world's tallest peak and attracts mountain climbers from around the globe. Mt. Qomolangma's base camp gained reliable access to electricity last April.
Wang told Xinhua that a road linking the base camp and a national highway is under construction and should be open to traffic in June, making it easier for tourists to reach the mountain.
A tourist center will also be built in a nearby village to provide medical care, ticket information and emergency rescue services, he said.
– China Tibet Online , Feb 1, 2015