China agrees to a new route for Kailash-Mansarovar pilgrimage via Nathu-la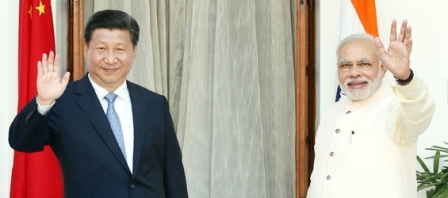 TBN Online ——–
New Delhi : India and China have agreed to strengthen cooperation and signed 12 agreements including China investing $20 billion in India's infrastructure over five years.
Prime Minister Narendra Modi and Chinese President Xi Jinping held summit talks in Delhi on Sept. 18 .
President Xi addressed Indian Council of World Affairs and committed to foster friendship and coopearation today.
China has agreed to a new route for the Kailash-Mansarovar pilgrimage via Nathu-la.
Kailash Mansarovar Yatra is a popular religious pilgrimage to Mount Kailash and Lake Manasarovar in Tibet. The journey is undertaken by followers of many religions and is known for its uneven terrain and harsh conditions.
President Xi Jinping has agreed to open a safer route for Indian travellers. The new route would be through Nathu La, the Himalayan pass linking the two countries. This will be in addition to the existing route through Uttarakhand.
"The new route offers many benefits. It makes Kailash Mansarovar accessible by a motorable road, which is especially beneficial to the older pilgrims," said Modi, while thanking his Chinese counterpart for the gesture.
Earlier , Indian Prime Minister Narendra Modi welcomed President Xi to India, describing the potential of India-China ties as "INCH (India and China) towards MILES (Millennium of Exceptional Synergy)."
China and India clinched the deals of setting up an industrial park in India focused on building power transmission equipment, and establishing sister province-state relations between China's Guangdong and Gujarat and sister city relations between China's Guangzhou and Ahmedabad.
According to the Indian newspapers , Xi pointed out that the Chinese and Indian people supported each other and forged profound friendship in the fight against colonialism for national independence, stressing that "we must carry forward the friendship."
India is the last stop of Xi's four-nation tour in Central and South Asia, which has already taken him to Tajikistan, Maldives and Sri Lanka.
President Xi also attended a summit of the Shanghai Cooperation Organization in Tajikistan.
– Sept. 19,2014