China for closer cooperation with India under SCO framework: Xi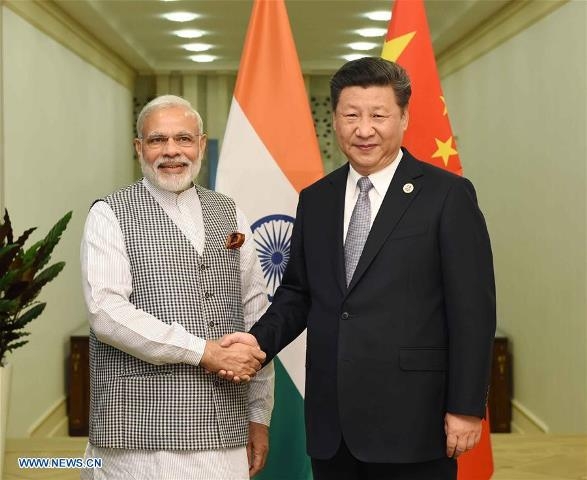 Tashkent (Xinhua) : China is looking forward to enhancing cooperation with its neighbor India under the framework of the Shanghai Cooperation Organization (SCO), Chinese President Xi Jinping said here Thursday.
Xi made the remarks while meeting with Indian Prime Minister Narendra Modi ahead of this year's SCO summit scheduled for June 23- 24 ,2016 in Tashkent.
China-India strategic partnership is rapidly growing in the direction set by both leaders, said Xi. He recalled the important consensus he had reached with Indian President Pranab Mukherjee on bilateral ties when the latter was paying a visit to China last month.
Xi said that the two countries have much more common interests than differences, and the two sides should enhance pragmatic cooperation in areas such as trade, railway, industrial parks, energy and electricity, information technology, energy conservation and environment protection.
He also extended his congratulations to Modi over India's upcoming signing of a memorandum of obligation to join the SCO, a key step for India to obtain membership of the organization.
Founded in 2001, the SCO now has China, Kazakhstan, Kyrgyzstan, Russia, Tajikistan and Uzbekistan as its full members, with Afghanistan, Belarus, India, Iran, Mongolia and Pakistan as observers.
The Chinese president welcomed Modi's scheduled attendance at this year's G20 summit in Hangzhou, capital of east China's Zhejiang Province, adding that he is looking forward to participating in this year's BRICS summit in India in October.
Modi, for his part, hailed the sound development of India-China relations over recent years based on traditional friendship.India is ready to join hands with China to strengthen cooperation in various fields, intensify bilateral coordination and communication over regional and international issues, and properly handle existing problems between the two countries, said Modi.
Xi arrived in Tashkent on Tuesday for a state visit to Uzbekistan and the SCO summit.Uzbekistan is the third and final stop of Xi's three-nation tour, which has taken him to Serbia and Poland.
June 23 , 2016