' China Hunan International Tourism Festival 2013 to boost tourism '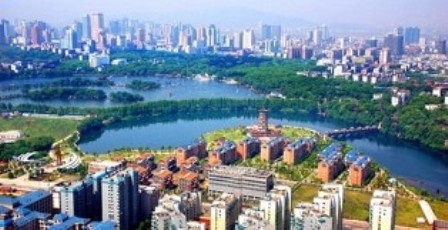 TBN Correspondent —————-
Kathmandu / Changsha : The 2013 China Hunan International Tourism Festival will be officially inaugurated on September 12 in Orange Isle Scenic Spot of Changsha City.
The 2013 China Hunan International Tourism Festival and Hunan Tourism Industry Fair opening ceremony, themed on "Happy Hunan with Charming Landscapes", will be held in the Folk Culture Park of Orange Isle Scenic Spot, Changsha.
Director of Hunan Tourism Bureau and Deputy Director of the Organizing Committee of China Hunan International Tourism Festival Zhang Zhiheng, addressing a press conference in Changsha , informed that the festival, with the theme of "Happy Hunan with Charming Landscapes", will be held in the relevant cities/prefectures of the Province from September 12 to October 29, 2013.
"The tourism festival consists of the four major segments: the opening ceremony of the 2013 China Hunan International Tourism Festival and Hunan Tourism Industry Fair, China (Hunan) Red Tourism Culture Festival and "Beautiful China Dream – Tour of Shaoshan Together" large-scale theme event, the provincial international tourism festival series of thematic events, and the different cities/prefectures' festival-related events", he said.
' The tourism festival is held in the critical period when The Outline for National Tourism and Leisure (2013-2020) is officially issued and the Tourism Law is to be officially implemented on October 1st. Hosting this tourism festival is an important move of Hunan's tourism industry to carry through and implement the Decisions on Establishing Hunan as a Strong Tourism Province promulgated by the CPC Hunan Provincial Committee and the People's Government of Hunan Province in the last year, strongly push ahead with the transformation and upgrading of the tourism industry, and boost Hunan's tourism industry development,' Zhang Zhiheng added.
Hunan is one of China's major provinces of tourism resources and tourism industries. Hunan is charmingly scenic with its numerous delicate, beautiful, and bizarre mountains and rivers, possesses the two "World Natural Heritages" Zhangjiajie and Langshan Mountain; Mount Hengshan, Dongting Lake, and other beautiful and bizarre sceneries; and Yuelu Academy, Shaoshan, Fenghuang Ancient Town and other peculiarly charming cultural heritages.
Hunan has profound historical and cultural contents and resources and is the native place of Mao Zedong, Liu Shaoqi, Ren Bishi and other numerous leaders of new China.
"Hunan has seen a rapid development in its tourism industry. The Province achieved tourism revenue of 223.41 billion Yuan in 2012, and 107.118 billion Yuan in the first half of this year, up 25.56 per cent year on year. With the tourism revenue of the whole province expect d to exceed 260 billion Yuan, Hunan presents a rosy scenario of overall soundness and sustainable development of its tourism industry,"he added.
Likewise, the 2013 China Hunan 4th Tourism Industry Fair will be held in the national 5A-class scenic area – Orange Isle Scenic Spot on September 12 -14. This tourism fair is hosted by Hunan Tourism Bureau and China South Publishing & Media Group.
Hunan Tourism Fair covers 12 events, including the serial thematic events such as "Tourism New Discoveries of Hunan's County-level Regions", Xiaoxiang Tour , the photo exhibition of Hunan tourism works and Joy Xiaoxiang show among others.
In addition to Changsha , the other cities/prefectures of the province will have 12 events to be held simultaneously in Zhuzhou , Hengyang , Yueyang , Changde ,Yiyang , Loudi , Chenzhou , Yongzhou ,Zhangjiajie and Huaihua cities .
"The festival will fully display Hunan's rich and unique tourism resources, promote Hunan's characteristically charming tourism products, enhance its overall image of "Happy Hunan with Charming Landscapes", and embody Hunan's brand-new aspect of openness and development," Zhang added.
The provincial capital Changsha, as a city full of charm, has become a famous leisure and entertainment center in China now. "Appreciating Hunan cuisine, watching fireworks, attending karaoke halls, enjoying foot bath, bathing in hot spring, and savoring wine in saloons" have already become a shining tourist card for savoring "Happy Hunan" and enjoying a rich and romantic nightlife.
During the tourism festival, Changsha will also hold the Meixi Lake International Culture and Art Week, and Orange Isle International Music Festival including other programs.
Nearly 500 exhibitors from domestic and overseas travel agencies, over 100 domestic and overseas media agencies, more than 150,000 visitors will attend the event. Travel professionals from Hong Kong, Macao, Taiwan, South Korea, Singapore, Malaysia, Thailand, India, the UK, Spain, Russia and other countries are expected to attend the events related to the tourism festival.
The Festival is organized by Hunan Tourism Bureau and the People's Governments of Changsha City including other cities/prefectures, and assisted by the press office of the People's Government of Hunan Province, Department of Transportation of Hunan Province, Foreign and Overseas Chinese Affairs Office of Hunan Province China, and Radio, Film & TV Bureau of Hunan Province.
September 11 , 2013