China-led Asian Infrastructure Investment Bank takes shape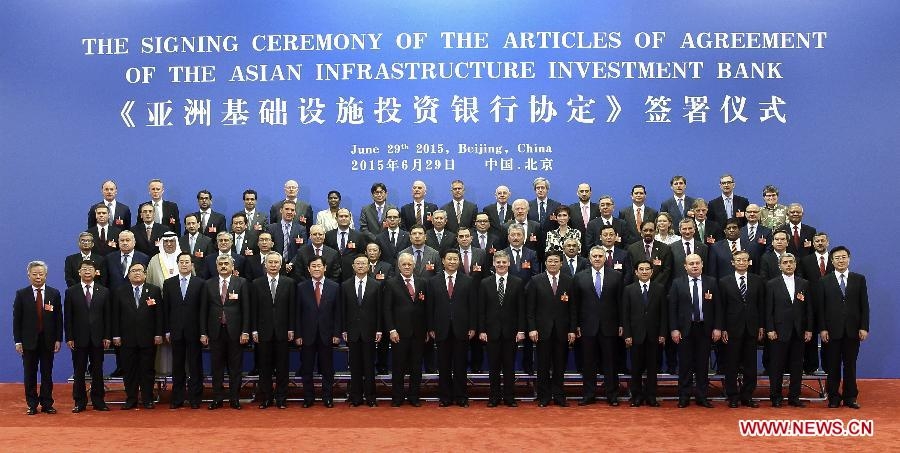 BEIJING:The Asian Infrastructure Investment Bank (AIIB) captured global attention once again as its founding members gathered here to witness the signing of an agreement, a key step that paves the way for the operations of the institution.
The China-proposed bank is designed as a multilateral financial institution that mainly serves the development needs of the region, and it is also intended as a beneficial supplement to existing global financial organizations.
The AIIB has been warmly welcomed by countries in and out of Asia, which is so appealing to many developed economies in Europe that they offered to become founding members of the bank.
"The signing of the document reveals the commitment of the parties involved in the founding of the AIIB, as well as their solidarity, cooperation, openness, inclusiveness and quest for common development," President Xi Jin Ping told representatives of the 57 prospective founding countries.
The 60-article agreement outlined the financial share of each member, policy making, business and operational systems, and governance structure. The AIIB is designed to finance infrastructure building in Asia.
The AIIB will have authorized capital of 100 billion U.S. dollars. Asian countries will contribute up to 75 percent of the total capital and be allocated a share of the quota based on their economic size.
China, India and Russia are the three largest shareholders, with a voting share of 26.06 percent, 7.5 percent and 5.92 percent, respectively.
The Beijing-headquartered bank will start operation at the end of the year. – Xinhua
June 29 , 2015