China orders 300 aircraft ,Boeing to open a facility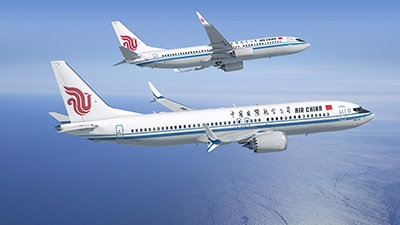 EVERETT- Boeing welcomed China President Xi Jinping to its widebody commercial airplane factory and announced several agreements to broaden mutually beneficial cooperation between Boeing and China.
The agreements include orders and commitments for 300 Boeing narrowbody and widebody aircraft and expanded collaboration between Boeing and China's commercial aviation industry.
Boeing and China committed to further advance development of China's commercial aviation industry and meet strategic business objectives for Boeing in the world's largest airplane market going forward.
President Xi, accompanied by Boeing executives, viewed final assembly lines for the 787 Dreamliner, 777 and 747-8, as well as aircraft components made by Chinese aviation suppliers.
Boeing President and CEO Dennis Muilenburg said Boeing appreciated China's continued trust and confidence. "Boeing is committed to further strengthening and deepening our partnership with China in mutually beneficial ways that will bring positive outcomes to Boeing and our Chinese partners."
"Boeing will continue to work closely with our customers, suppliers and other stakeholders in China to support the long-term growth of China's aviation industry and jobs here in the United States," said Boeing Commercial Airplanes President and CEO Ray Conner.
Boeing and NDRC have signed a Memorandum of Understanding (MOU) that will advance their long-term strategic cooperation through several "Pillars of Partnership."
Boeing and China Aviation Supplies Holding Company (CASC) have signed a General Terms Agreement related to the purchase of 300 airplanes. The package has a value of approximately $38 billion at list prices.
"Boeing airplanes have played an important role in supporting the development of China's aviation transportation for the past 40 years," said Li Hai, president of China Aviation Supplies Holding Company.
Boeing and Commercial Aircraft Corporation of China, Ltd., (COMAC) will partner to open a facility in China for the interiors completion, paint and delivery of Boeing 737 aircraft to Chinese customers. The joint venture facility will expand Boeing's collaboration with China's aviation industry while also enabling future production rate increases at Boeing's 737 final assembly factory in Renton, Wash.
Boeing has partnered with Chinese stakeholders to support development of China's air transport system since President Richard Nixon arrived in Beijing on Air Force One, a Boeing 707, in 1972. Today, more than 50 percent of commercial jetliners operating in China are Boeing airplanes.
Over the next 20 years, China will be Boeing's largest commercial airplane market with a projected need for 6,330 new airplanes, worth an estimated $950 billion.
Boeing is the largest international customer of China's aviation manufacturing industry, with suppliers playing a role in 737, 747, 767, 777 and 787 Dreamliner production.- Boeing.com
Sept . 24, 2015