China promotes tourism themes "Year of Marine Tourism-2013 " and " Beautiful China "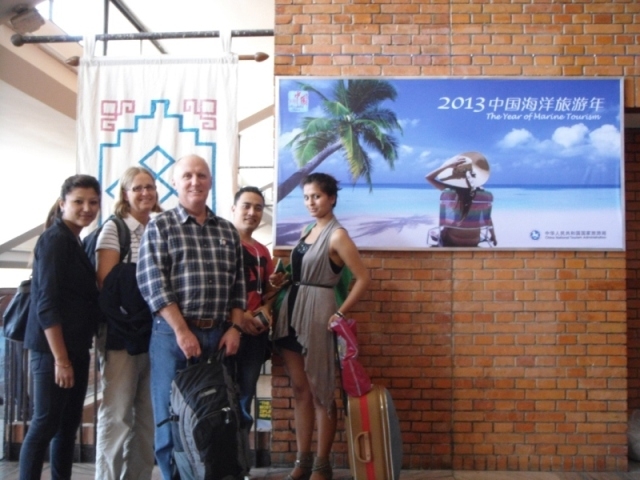 Travel BizNews Service————-
Kathmandu, April 5: China, the fastest-growing tourism source market in the world, plans to develop inbound and outbound tourism with new innovative strategies.
China has declared 2013 as "Year of Marine Tourism" besides officially setting "Beautiful China" as the theme of China's tourism image.
China's mainland coastline measures about 18,000 km with many excellent harbors and developed port cities. Marine tourism has become a popular attraction for travelers in recent years.
China's National Tourism Administration (CNTA) launched the Year of Marine Tourism in Sanya, South China's Hainan province on January 1, 2013.
The themes of the launch of the year are "Experience the Sea, Tour China", "Marine Tourism Shapes the Future" and "Marine Tourism, Unlimited Excitement".
According to the CNTA officials ,China has five major coastal tourist resorts along the Bohai Bay, Yangtze River Delta, Pearl River Delta, the coast on the west side of the Taiwan Strait and the Hainan Island.
Meanwhile, the theme of China's Tourism Image "Beautiful China" has been promoted in international tourism markets by CNTA and CNTO offices based in different parts of the world .
"Beautiful China" is a broad and rich concept, reflecting China's profound cultural tradition and abundant natural and cultural resources for tourism, demonstrating the economic, political, cultural, social and ecological progress China has made through reform and opening-up to the outside world, and underscoring the lead China's tourism industry is taking in an eco-friendly international tourism, CNTA states.
China National Tourism Administration (CNTA) plans to promote the theme of "Beautiful China" in international tourism exhibitions and travel fairs including China International Travel Mart and other national promotional events this year.
Similarly, the Kathmandu-based China National Tourist Office plans to promote the tourism logo "Beautiful China" in Nepal organizing various programmes this year. CNTO has already exhibited a hoarding board with the themes of "Beautiful China" and "2013 – The Year of Marine Tourism "at the Tribhuwan International Airport in the capital city of Nepal.
The number of Chinese tourists visiting Nepal is has increased in recent years especially after China designated Nepal as the first destination in South Asia for its citizens in 2001.
A total of 53,373 tourists from China, who arrived in Nepal through air route, visited Nepal in 2012 spending on an average US $ 80 per day in Nepal.
According to a new report by the United Nations World Tourism Organization (UNWTO), Chinese tourists spent a record US$102 billion on international tourism and the volume of international trips by Chinese travelers increased from 10 million in 2000 to 83 million in 2012 .
Air China, China Southern and China Eastern Airlines operate flights to Kathmandu linking Lhasa,Guangzhou and Chengdu.
Travel entrepreneurs expect strengthening of Nepal-China tourism cooperation with promotion of new themes of China Tourism "Beautiful China " and " 2013-Year of Marine Tourism " in Nepal.