" China to continue patrolling, defending Doklam area "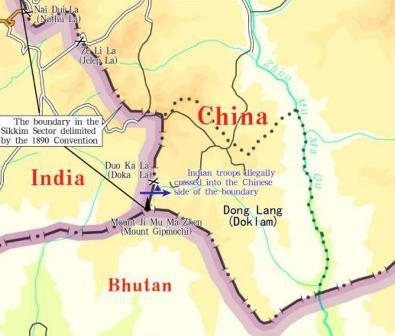 Beijing (Xinhua) : Chinese border troops are continuing their patrolling and defending the Dong Lang (Doklam) area, a Chinese Foreign Ministry spokesperson said Tuesday. ( Aug.29 ,2017)
"We will make an overall assessment of the weather conditions and all related factors, and according to the actual circumstances complete construction plans for the Dong Lang (Doklam) area," spokesperson Hua Chunying told a daily news briefing.
On June 18, over 270 armed Indian troops with two bulldozers crossed the boundary into Dong Lang (Doklam), Chinese sovereign territory, to obstruct infrastructure construction.
China Monday confirmed that India had withdrawn personnel and equipment from Dong Lang (Doklam) after a military stand-off lasting more than two months.
Hua said for a long period of time, China has constructed infrastructure facilities including roads to meet the needs of soldiers and civilians, and improve their living conditions.
Chinese Foreign Ministry spokesperson Hua Chunying said that Chinese personnel completed the on-site check around 2:30 p.m., adding that China will continue to safeguard its territorial sovereignty according to historical boundary treaties.
The Chinese government values its neighborly friendship with India, Hua said. It expects India to respect historical boundary treaties and basic principles of international law, and to work with China to safeguard peace and stability in the border area on the basis of mutual respect of each other's territorial sovereignty.
On June 18, more than 270 armed Indian troops with two bulldozers crossed the boundary in the Sikkim sector and advanced more than 100 meters into Chinese territory to obstruct routine road construction in the Dong Lang area of Tibet Autonomous Region.
Hua said since the Indian trespass occurred, China has lodged representations to India through diplomatic means on multiple instances. It has explained the situation to the international community, and urged India to immediately withdraw its border troops to the Indian side of the boundary. Meanwhile, Chinese troops have taken effective measures to safeguard China's territorial sovereignty and lawful interests.
Dong Lang, which borders India's Sikkim state to the west and the Kingdom of Bhutan to the south, is part of Chinese territory and has been under Chinese rule for a very long time.
According to the Convention between Great Britain and China Relating to Sikkim and Tibet (1890), the area undoubtedly belongs to China. The agreement was inherited by India after its independence and has been repeatedly confirmed in writing by successive governments of the former British colony.
Commentary: Withdrawal of troops the right choice for India
India pulled back personnel and equipment from Dong Lang (Doklam) region , ending a two-month military stand-off triggered by India's illegal incursion. It is the correct choice of India to return to abiding by international law.
The Doklam area is undisputed Chinese territory with a clear history and legal basis. The Indian military trespass grossly encroached on China's territorial sovereignty, and trampled on the fundamental principles of international law and basic norms governing international relations.
Over the past days, China has demonstrated its determination to safeguard its territorial sovereignty and legitimate rights. Chinese troops have also taken countermeasures.
The Chinese side has exercised the utmost restraint, communicated with the Indian side through diplomatic channels, and shown maximum sincerity in resolving the dispute via peaceful means.
There is no room for the slightest ambiguity regarding historical issues that concern the principle of right and wrong.
For China and India, close neighbors and the world's two largest emerging economies, their common interests far outweigh their disputes. China has been building friendly ties with India, and safeguarding the overall interest of bilateral ties, on a basis of respect for each other's territorial sovereignty.
As India's gambit comes to an end, China will continue to patrol the Doklam area and safeguard territorial integrity, as approved by border agreements. It is expected that India will continue its correct attitude and to meet China halfway to put China-India ties on a healthy track.
August 29 , 2017