China's Belt and Road ; connecting the world :Chinese President Xi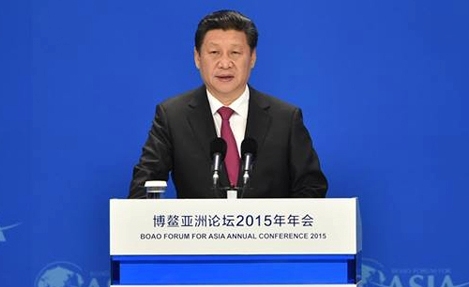 BOAO, China (Xinhua) : Chinese President Xi Jinping called on the international community to build a community of common destiny on four pillars.
"We have only one planet, and countries share one world," Xi noted in his keynote speech at the annual conference of the Boao Forum for Asia in this southern Chinese small town.
"Facing the fast changing international and regional landscapes, we must see the whole picture, follow the trend of our times and jointly build a regional order that is more favorable to Asia and the world," Xi added.
The Chinese president tabled a four-point proposal.First, he called on all countries to respect one another and treat each other as equals, noting that the hard-won peace and stability in Asia and the sound momentum for development should be upheld by all.
Second, Xi called for win-win cooperation and common development."We should enhance coordination of macroeconomic policies to prevent negative spill-over effects that may arise from economic policy changes in individual economies," Xi said.
He also urged Asian countries to stay committed to open regionalism and move forward trans-regional cooperation in a coordinated manner.
Third, Xi called on countries to pursue common, comprehensive, cooperative and sustainable security.In handling security issues in Asia, it is important to bear in mind both the history and reality of Asia, take a multi-pronged and holistic approach, improve coordinated regional security governance, and safeguard security in both the traditional and non-traditional realms, he said.
Fourth, Xi stressed the need to ensure inclusiveness and mutual learning among civilizations.
China, he said, proposes that a conference of dialogue among Asian civilizations be held to provide a platform to enhance interactions among the youth, people's groups, local communities and the media and to form a network of think-tank cooperation. that will add to the Asian people's rich cultural life and help foster more vibrant regional cooperation and development, Xi said.
Likewise, President Xi said the "Belt and Road" initiatives will not be a solo for China but a real chorus comprising all countries along the routes.
The "Belt and Road" initiatives, aimed at meeting the development needs of China, countries along the routes and the region at large, will serve the common interests of relevant parties and answer the call of the times for regional and global cooperation, Xi said.
Noting that the initiatives will be carried out following principles of wide consultation, joint contribution and shared benefits, Xi said the "Belt and Road" will be built on existing basis to help countries align their development strategies and form complementarity, with no intention of replacing existing mechanisms or initiatives for regional cooperation.
Stressing that the "Belt and Road" initiatives and the Asian Infrastructure Investment Bank (AIIB) are both open initiatives, Xi said all countries along the routes in Asia, as well as China's friends and partners around the world, are welcomed to take an active part in these endeavors.
The "Belt and Road" initiatives, namely, the Silk Road Economic Belt and the 21st Century Maritime Silk Road, were put forward by Xi during his visits to Kazakhstan and Indonesia in 2013.
The Silk Road Economic Belt is to be established along the ancient Silk Road trade route, stretching northwest from China's coastal area through Central Asia on to Europe, while the 21st Century Maritime Silk Road will run from China's south to Southeast Asia and even Africa.
The vision, once realized, will directly benefit 4.4 billion people, or 63 percent of the global population.So far, more than 60 countries along the routes and international organizations have shown interest in taking part in the two initiatives.
March 28, 2015