Chinese tourists shun package trips in favour of independent travel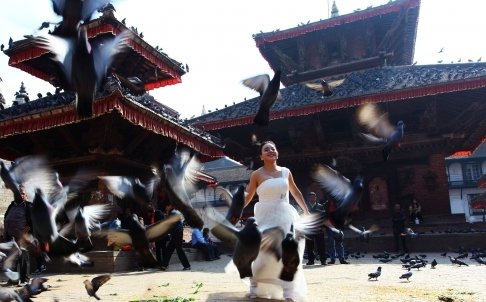 Hong Kong: Mainland Chinese holidaymakers may give the impression that they favour package tours, but most of the country's young travellers prefer to organise their own itineraries, a recent industry report shows.
The report, by Qyer.com, which offers budget travel plans and information on cheap flights and hotels, said more than 70 per cent of outbound tourists last year were independent travellers, meaning they planned and booked their trips themselves instead of joining tour groups.
Of last year's 109 million out-bound trips, 77 million were made by independent travellers – about 20 per cent more than 2013's 64 million.
The rapid rise in travel information on the internet and more convenient online procedures to book flights, accommodation and procure travel documents were the main reasons for the growth in do-it-yourself travel, said the report that analysed the agency's client database.
Asia was the favourite destination for 55 per cent of independent travellers, followed by Europe (29 per cent) and North America (10 per cent).
Hong Kong was attractive for most independent tourists, especially for shopping, with 11.6 per cent visiting the city last year, followed by Paris (9.7 per cent) and Bangkok (8.7 per cent).
The report said more than 18 per cent of independent tourists travelled to Hong Kong with their children, drawn by Ocean Park and Disneyland.
Vietnam and the Philippines, on the other hand, were less popular amid last year's rising political tensions with China, according to the report.
Women were much more interested in overseas travel, accounting for nearly 62 per cent of outbound travellers last year.
While relaxed visa policies towards mainland tourists helped boost overall outbound trips last year, Jiang Yiyi, director of the China Tourism Academy's overseas tourism department, said that as more mainland youngsters received higher education, language was no longer a barrier for mainland tourists abroad.
"In the past, our tourists might have needed help from tour guides to translate, but now more and more of them are able to speak English," Jiang said.
"On the other hand, foreign tourism markets have also introduced Chinese-language services to attract mainland tourists, so tourists can now be more independent."
According to figures from the China Tourism Academy, each mainland tourist spent an average of 8,173 yuan (HK$10,300) abroad last year, slightly less than the 8,298 yuan in 2013.
Their biggest expenditures were transport and shopping, the report said.
While a third of the respondents said they set no cap on shopping, nearly 40 per cent said they exceeded their budgets in the shops.
Others' travel experiences, and discounts for flights and hotels, were the main reasons for more mainlanders choosing to travel abroad, the report said. – scmp.com (23 March 2015)