Community Experience of the Climate Change in the Himalayas and Solutions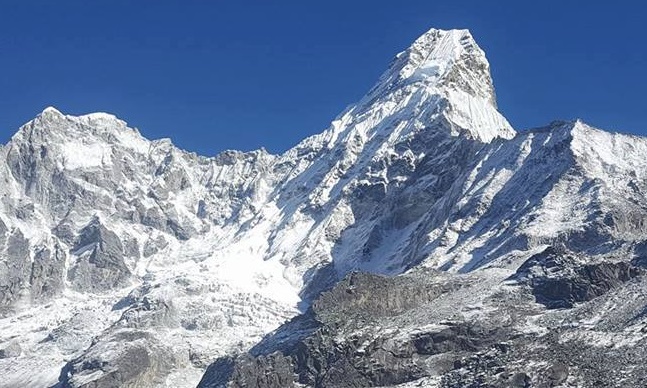 – Ang Tshering Sherpa
Mountaineering and Tourism in general has done wonders to the lives of communities in the Mount Everest Region by bringing economic benefits and development opportunities denied to us for centuries due to our isolation. However, in recent years, climate change has been creating massive problems to our ecology, and potentially to our cultural heritage and lives.

People living in the Himalayas may have similar pains and pleasures, but they are very diverse in terms of their ethnicity, languages, cultural and traditional values. It was important therefore to bring together all these voices under one organization. I therefore co-founded Climate Alliance of Himalayan Communities.
Thousands of small and big glacial lakes have come up across Himalayas. Many of them have now become dangerously big. One of the biggest of them- IMJA lake, situated at 5010m – I saw developing in front of my own eyes since my childhood. This huge glacial lake came about literally on a playground where I and my friends used to play while grazing our Yaks. Let's note that all of the Himalayas are sitting on one of the most unstable and seismically active ecological landscape with earthquakes a regular phenomenon. You can only imagine the danger under which much of the mountain communities in the Himalayas live with literally millions of tons of water held back by fragile moraine walls that can break even with a small avalanche or earthquake. Indeed, many such tragic events have already taken place in the mountains that seldom gets reported in the international press.
Subsequently Mt. Everest has major effect on the livelihood of not only the mountain communities of Nepal but the majority of the population of Asia. Everest is regarded as Goddess Mother of the Universe in Sherpa folklore. She is the guardian in whose shadow Sherpa children grow up. We think of Everest as massive, solid, unchanging, strong, lofty, mighty and unable to be hurt. The truth is, few people know that the home of "Sagarmatha" Mother of the Universe, "Chomolungma" Goddess Mother of the Universe is one most endangered place on the earth. There were about 3000 glaciers in the high Himalayas and in the last 50 years, almost as many glacial lakes have been formed. Less immediately noticeable at lower altitudes, the urgency is in the high Himalayas, now emerging as one of the worlds most vulnerable and quickly disintegrating areas due to the impact of climate change.
Unfortunately Glacial Lakes are not the only problem. Temperature increase has brought about lot of problems for  the mountain people in the Himalayas. The mosquitoes that used to limit to tropical and subtropical areas have moved up bringing diseases to the communities that were never exposed to them. Flash floods, avalanches, landslides, forest fires have become much more common and intense. Massive amount of immigration is happening to low-lands and to neighboring countries because of all these problems.
Climate Change which we hardly made any negative contribution towards, is threatening our very culture and identity. If something is not done big and quick enough, the millennium old heritage from which the whole world could have benefitted would be totally lost. Coming out of mountaineering business community, and having known almost all the famous mountaineers of the world, I would also like to share, that because of global warming, the entire mountaineering sport is in currently endangered because it is increasingly becoming dangerous and uncertain.
The image of iconic Mt. Everest has been affected by a series of consecutive disasters. The death of sixteen valiant high altitude climbing Sherpas on Khumbu icefall avalanche of Mt. Everest on 18 April 2014, an unprecedented natural catastrophe of heavy snow fall and avalanches that occurred on 13 -14 October 2014 in Annapurna, Dhaulagiri and Dolpo region, killed 41and rescued 532 trekkers and climbers of various nationalities, and the devastating earthquake triggered a massive avalanche from the flank of Mt. Pumori that killed 18 and 71 injured climbers at Everest Base Camp on 25 April 2015 which were rescued immediately from EBC to Kathmandu are some of the worst climbing disasters in Himalayan mountaineering history. The devastating earthquake on 25 April and 12 May 2015 and its aftermath tremors have brought us grief and devastation.
The question is what could be done. How can we the local people, the mountain communities help the situation? More importantly, how can the wider world; people in the audience help this situation which is getting out of control. I will make some recommendations here.
First, we, the mountain people must come together, share experiences, and raise our voices, locally, regionally and globally. With this in mind, the organization I head "Climate Alliance of Himalayan Communities" is constituted. We also did a first of its kind research on "Community Perspective on Climate Change in the Himalayas" and shared the same with visiting IPCC scientists in Kathmandu recently. We need institutional support from across the world to build our own capacity and be able to carry out awareness and advocacy programs that we are pursuing.
Two, we, based on our limited knowledge, have come with a model of promoting "Climate Smart Villages in the Himalayas". The model is built around three pillars- climate awareness, climate adaptation, and mitigation of GHG emission. We have chosen a few sites to pilot such projects. We need the technical and financial support of the global community to make that happen. Our idea is to propagate this idea across Nepal's Himalayas on the 1555 KM long The GREAT HIMALAYA TRAIL. Such community based development models have been very successful in Nepal. Just to share an example, "Community Forest" model was piloted only at a few places in Nepal, and after it became successful, it was spread across Nepal. The initiative was so successful that it ended up increasing the overall forest cover of the country itself.
Three, there is a lot for the world to learn from the mountain communities. The weather systems in the Himalayas have always been erratic- the mountain community knows a lot how to deal with them. It is another matter that the severities of climate-induced problems are just too much for them to handle. And yet, the world can learn a lot from the mountain communities in terms of how to deal with climate change. The Himalayas can be a living laboratory on climate change. My sincere recommendation is the scientific community and foundation should look at the possibility of setting of a world-class climate research facility in the Himalayas. We the mountain communities would love to collaborate on these and bring our government on board to support such an initiative.
(Excerpts from the presentation by Ang Tshering Sherpa on  "Community Experience of the Climate Change in the Himalayas and Solutions" during UNCCC – COP23 conference on 14 November 2017 in Bonn, Germany. Sherpa is Chairperson, Climate Alliance of Himalayan Communities; Hon. Member, International Climbing and Mountaineering Federation (UIAA) ; IP President of Asian Mountaineering and Climbing Federation (UAAA) and NMA and  Chairman of Astrek Group of Companies )
Photo: Mt. Ama Dablam and Mt. Cholatse by A.T.Sherpa