Denmark best, Somalia worst performer in Corruption Perceptions Index 2015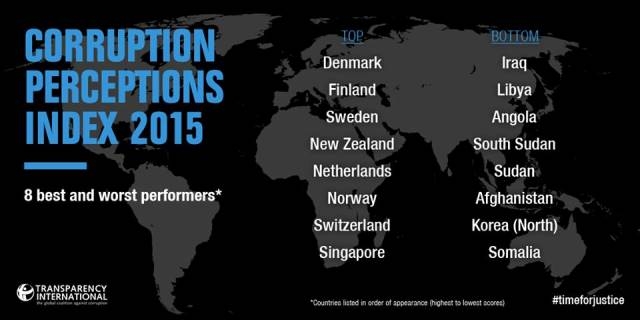 TravelBizNews Desk –
Berlin – The year 2015 showed that people working together can succeed in the battle against corruption. Although corruption is still rife globally, more countries improved their scores in the 2015 edition of Transparency International's Corruption Perceptions Index than declined.
Overall, two-thirds of the 168 countries on the 2015 index scored below 50, on a scale from 0 (perceived to be highly corrupt) to 100 (perceived to be very clean) according to Transparency International statement.
"The 2015 Corruption Perceptions Index clearly shows that corruption remains a blight around the world. But 2015 was also a year when people again took to the streets to protest corruption. People across the globe sent a strong signal to those in power: it is time to tackle grand corruption," said José Ugaz, Chair of Transparency International.
Grand corruption is the abuse of high-level power that benefits the few at the expense of the many, and causes serious and widespread harm to individuals and society. It often goes unpunished.The index covers perceptions of public sector corruption in 168 countries.
Top performers share key characteristics: high levels of press freedom; access to budget information so the public knows where money comes from and how it is spent; high levels of integrity among people in power; and judiciaries that don't differentiate between rich and poor, and that are truly independent from other parts of government.
In addition to conflict and war, poor governance, weak public institutions like police and the judiciary, and a lack of independence in the media characterise the lowest ranked countries.
The big decliners in the past 4 years include Libya, Australia, Brazil, Spain and Turkey. The big improvers include Greece, Senegal and UK.
The Corruption Perceptions Index is based on expert opinions of public sector corruption. Countries' scores can be helped by open government where the public can hold leaders to account, while a poor score is a sign of prevalent bribery, lack of punishment for corruption and public institutions that don't respond to citizens' needs.
Nepal slipped four positions down in the fresh Corruption Perception Index of Transparency International.While Nepal was at the 126th position with a score 29 points in 2014, Nepal in 2015 was placed at the 130th position with a score of 27 points.
Cameroon, Iran, Nicaragua, Paraguay and Ukraine share Nepal's position with the equal score.
Denmark, Finland, Sweden, New Zealand and the Netherlands are the five best performers with 91, 90, 89, 88 and 87 points respectively.
Likewise, Somalia, North Korea, Afghanistan, Sudan and South Sudan are the worst performers.
Among the South Asian nations, Nepal is just ahead of Afghanistan (166th position with 11 points) and Bangladesh (139th position with 25 points).
Bhutan is found to be the least corrupt among the South Asian Association for Regional Cooperation (SAARC) members. It is placed at the 27th position with 65 points.
Following Bhutan are India (76th position with 38 points), Sri Lanka (83rd position with 37 points) and Pakistan (117th position with 30 points). Maldives was not listed in the Index.- Transparency International
Jan. 2016