Expedia sponsors WanderTours for Snowman Trek in Bhutan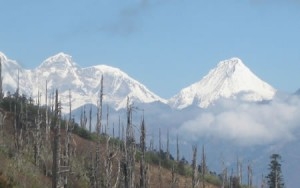 Seattle, WA : WanderTours will embark on the most difficult trek in the world – the Snowman Trek through the rugged Himalayas of Bhutan in September 2014.
Expedia has agreed to sponsor the journey, supporting WanderTours, but also upping the ante on the WanderTours Giving Program, which seeks to give back to the communities that WanderTours visits. For the Snowman Trek, a donation will be made on behalf of the group to RENEW, a Bhutan-based organization that seeks to empower women and girls in Bhutan, especially those affected by domestic violence.
"Expedia is pleased to support WanderTours as they embark on this exciting storybook adventure," said Sarah Gavin, Senior Director of Merchandising & Integrated Marketing at Expedia. "The Snowman Trek and WanderTours' commitment to supporting the local community embodies the transformative power of travel and their trip is exactly the type of adventure we at Expedia love being involved with."
RENEW stands for Respect, Educate, Nurture and Empower Women and the organization believes strongly that violence against women stands in the way of gender equality. RENEW reaches out in a variety of ways, from counseling to offering shelter, from legal assistance to vocational training to internships—all in an effort to empower the women of Bhutan, a country that has largely ignored women's rights as a matter of policy. In fact, RENEW is the only government or non-government agency in the country that specifically targets victims of domestic violence.
The Snowman Trek is one of the most difficult treks in the world, but also one of the most rewarding with spectacular views of Mt. Jomolhari, Jitchu Drake, Tsheri Kang and Tiger Mountain. The 32-day journey starts with a couple of days in Paro, Bhutan, so the tour participants can acclimate to the elevation, but also enjoy the museums, monasteries and local shops. The trek combines the Jhomolhari and Laya treks, passes through the Lunana region and ends in Bumthang. Highlights of the journey include a visit to Tiger's Nest, Bhutan's most iconic monastery.
This adventure will be led by Beth Whitman, CEO of WanderTours. From September 15 until October 16, 2014, the tour group will venture from Bangkok, Thailand, to Paro, Bhutan, and then up into the Himalayas where they will journey about 220 miles and to altitudes as high as 18,480 feet.
This tour is co-ed and for experienced and highly fit trekkers. Only a limited number of serious trekkers do the Snowman Trek. In fact, more people complete the trek to Mt. Everest than complete the Snowman Trek each year. WanderTours will take up to 12 people. The cost is $8,945 per person plus the cost of flights. – ATTA
June 10, 2013