FAO and CITES support India's effort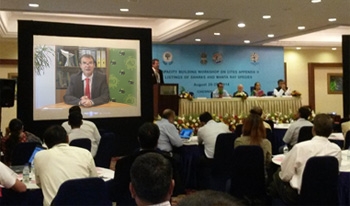 Geneva : The Bay of Bengal Capacity Building Workshop on CITES Appendix II Listings of Shark and Manta Ray Species was held in Chennai, India from 26 to 28 August 2014.
The workshop was hosted by the Indian Ministry of Environment, Forests & Climate Change (CITES Management of Authority of India), in cooperation with the C.P.R. Environmental Education Centre, Chennai, and Humane Society International.
Government representatives from CITES and fisheries authorities from all of the Bay of Bengal region (Bangladesh, India, Indonesia, Maldives, Malaysia, Myanmar, Sri Lanka and Thailand) , which constitutes a significant shark-fishing region, engaged in active discussions at the meeting. The representatives from a number of coastal states of India were also present to learn about the CITES measures in place and to discuss their challenges and needs in implementing the new CITES listings at the subnational level.
The workshop was opened by the Minister, Ministry of Environment, Forests and Climate Change; Joint Secretary, Ministry of Agriculture; CITES Management Authority of India and John E. Scanlon, CITES Secretary General (see CITES Secretary-General's remarks). Representatives from Food and Agriculture Organization of the United Nations (FAO), South Asia Cooperative Environment Programme (SACEP), Bay of Bengal Large Marine Ecosystem Project (BOBLME), and the Indian Ocean Tuna Commission (IOTC) Secretariat were also present to define better their roles in the region.
Delegates used the outcomes of two recent meetings in the region (FAO/CITES Regional consultative workshop on sharks for Asia, Xiamen, China; and Pew Charitable Trusts South Asia Workshop, Colombo, Sri Lanka) to develop a regional plan and agree on the roles and responsibilities of national and regional stakeholders on the different elements of CITES implementation, including coordination and communication; capacity-building, data collection and NDFs, and so on.
A parallel poster session was held to review the status of sharks and the legal, administrative and management regimes for shark fisheries within their waters, which generated much interest and productive discussions on sharing information and know-how in the corridors.- CITES
Sept. 3, 2014