First citizenM hotel in the United States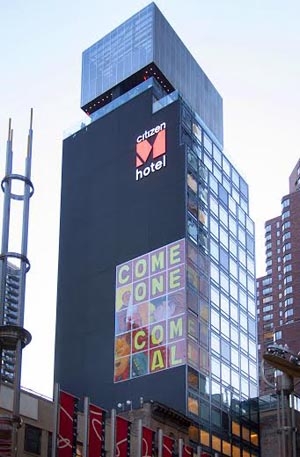 New York, NY – citizenM New York, the first citizenM hotel in the U.S. – the M stands for "Mobility" – has opened near Times Square, just off the corner of Broadway and 50th Street.
Headquartered in Amsterdam, citizenM has revolutionized the hospitality experience for today's mobile traveler, with offbeat sensibility and emphasis on affordable luxury, technology, and style. The development team for citizenM New York included citizenM Hotel and Brack Capital Real Estate.
The design for the 80,000-square foot, 21-story, 230-room hotel was a collaboration between Amsterdam-based design architect Concrete and New York City-based executive architect Montroy Andersen DeMarco (MADGI).The hotel is modern, elegant, and high-tech, in keeping with the chain's aesthetic and branding as a whole. The design team focused on optimizing space and quality, while maintaining citizenM's scale and design standards.
The property offers numerous innovative amenities, including self check-in, highly customizable guestrooms through touchscreen MoodPads, communal workspace and Apple iMac stations, a design partnership with a renowned Swiss furniture brand Vitra, an outpost of Amsterdam's leading creative bookstore MENDO, several outdoor spaces, including a rooftop bar with panoramic views of Manhattan, and canteen – a 24-hour grab & go-style cafeteria featuring an open kitchen with a full-service cocktail and coffee bar.The canteen offers locally-sourced food and beverage from select New York shops such as Puddin' NYC, Stone Street coffee, Brooklyn Gin, Mast Brothers Chocolate, and Il Laboratoria del Gelato.Room rates start at $199.
The preliminary design was completed in late 2010 and the final design was completed in 2011. Construction began in the summer of 2012. The structure was topped out in 2013. In addition to MADGI and Concrete, the project team included construction manager Flintlock Construction Services, structural engineer DeSimone Consulting Engineers, and façade consultant Gilsanz Murray Steficek.
April 18,2014