First Fuzhou Folk Tourism Festival held in Songkou, China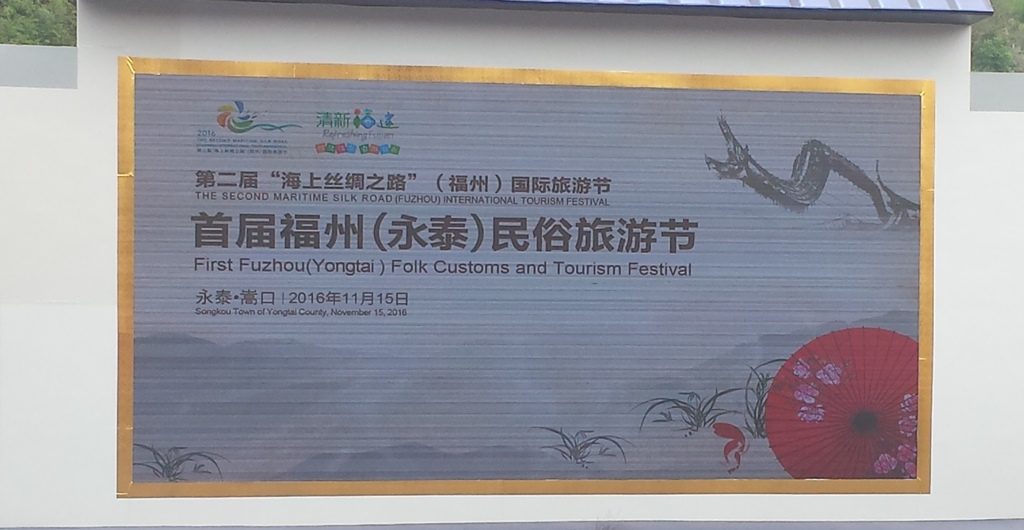 TravelBizNews Correspondent —
Songkou, Fujian (China): The first Fuzhou ( Yongtai) Folk Customs and Tourism Festival concluded recently in this ancient town of Fujian province of China .
Songkou town , administered under Yongtai County of Fuzhou city , is an important political ,economic , cultural and transportation center in southwest Yongtai besides a major agricultural , forestry and fruit production center in the region.
The festival was organized here after successful conclusion of second 'Maritime Silk Road' (Fuzhou) International Tourism Festival and 7th Fuzhou Hot Spring International Tourism Festival.
More than three hundred representatives of travel organizations representing different 25 countries attended the opening ceremony of the festival.
Personalities representing various government offices threw light on importance of the cultural festival. Cultural shows " Love to Ocean ", " Red Drum Dance ", " Love in the Ancient Town ", " Wedding at Dazhangxi " , " Dating at Qingyun Mountain " and " The Bridal Chamber" were performed during the inauguration ceremony of the festival.
Thousands of people of the ancient town Songkou attended the festival with enthusiasm.
More than 100 folk architectures built in Ming and Qing dynasty are well preserved in this town. Songkou town is the third national, cultural and historical town in Fujian Province and only one in Fuzhou city.
This festival is jointly organized by the National Tourism Administration, the Provincial Government, the Provincial Tourism Bureau and the Municipal Government, and the Yongtai county government.
The Yongtai county government has implemented different programs to promote the ancient town as one of the major tourist destination of Fujian province of China.Fujian is a province on the southeast coast of mainland China. The Maritime Silk Road was the earliest voyage route starting from Fujian Province.
Nov. 2016