Foreign arrivals into the Asia Pacific destinations to grow by 2021: PATA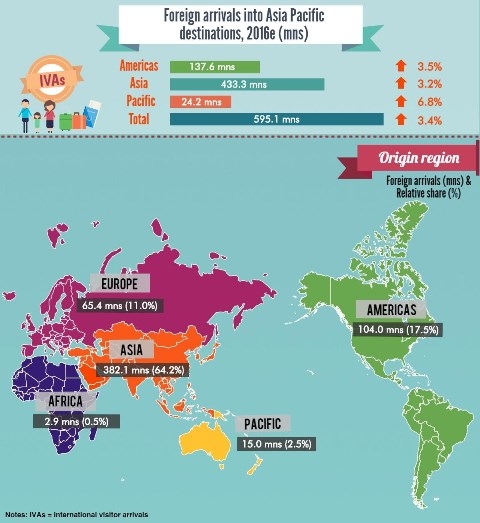 TravelBizNews —
Bangkok :Foreign arrivals into the Asia Pacific destinations are expected to grow at an average rate of five percent per annum, reaching a combined foreign inbound count of close to 758 million over the five year forecast period to 2021 according to a PATA report.
The Pacific Asia Travel Association (PATA) has published forecasts of international visitor demand across a range of destinations within the Asia Pacific region. The report, to be released in April, contains forecasts for international visitor arrivals to 39 destinations within the region for the period 2017 to 2021.
By the start of the next decade the Americas (as defined in this report) will be receiving 156 million foreign arrivals annually while Asia can expect to receive over 573 million. The Pacific is forecast to receive over 28 million foreign arrivals annually.
The average annual growth rate of five percent for Asia Pacific destinations is driven largely by the 5.8 percent average growth rate into Asia which, by 2021, will account for over three-quarters of all foreign arrivals into the Asia Pacific destinations.
At this time (2021), Asia will generate more than half a billion of the foreign arrivals into Asia Pacific, constituting more than two-thirds of the total because of its consistently high average annual growth rate between 2016 and 2021.
The Americas and Europe will also be significant generators of foreign arrivals, the former numbering a little under 117 million by 2021 and Europe totalling over 76 million.
The intra-regional flows within Northeast and Southeast Asia, as well as the bi-directional flows across these two sub-regions, will continue to dominate the growth pattern in 2021 with the Northeast Asia-to-Northeast Asia flows alone numbering in excess of 300 million in that year.
The origin markets of West, North and East Europe will grow into the Asia Pacific over the forecast period. However, it is West Europe that will lead the way with an estimated volume into the Americas of almost 9.5 million arrivals in 2021.
West Asia is expected to see a return to growth in 2021 with West, East and North Europeans in showing substantial volumes into that destination in 2021.
Southeast and Northeast Asia also see significant arrivals from Europe, especially from West and East Europe.
Dr. Mario Hardy, Chief Executive Officer of PATA, said, "The importance of the Asia Pacific region, both as a receiver and a generator of international arrivals, has been evident for some time and the momentum certainly appears to be holding over the next five years. With the maturing of many Asian source markets, destinations beyond the Asia Pacific region are also being increasingly explored. However, these destinations need to be ready to deliver a service that the increasingly sophisticated Asian traveller has already experienced in Asia and is now seeking in destinations further afield".
Inputs from PATA