Global business travel spend topped $1.2 Trillion in 2015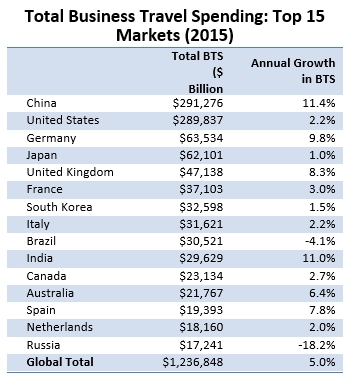 TravelBizNews Desk —
Alexandria, VA : Global business travel spend topped $1.2 trillion USD in 2015, growing 5 percent over 2014, and is forecast to reach 1.3 trillion in 2016 according to the GBTA BTI™ Outlook – Annual Global Report & Forecast, a new report released by the GBTA Foundation, the education and research arm of GBTA, and sponsored by Visa, Inc.
Despite continued global uncertainty, cautious optimism rules the forecast, which predicts global business travel spend to advance 5.8 percent on average over the next five years reaching $1.6 trillion in 2020.
"Global business travel remains a critical driver of the success of organizations around the globe," said Michael W. McCormick, GBTA executive director and COO. "Business travel has demonstrated a tremendous resiliency as it continues slow and steady progress even in the face of global uncertainty, a weakened global economy, terrorist attacks, world health issues and other obstacles. Companies across the globe clearly understand the return on investment business travel delivers for their bottom line."
"While overall growth has remained steady despite global uncertainties, signs are good for a solid end to the decade as we approach 2020," said David Henstock, VP, Global Business Solutions at Visa, Inc. "Business travel has continued to evolve as the world is becoming more connected, and the transition to electronic payments will help businesses reduce costs and pay for travel expenses more efficiently."
At $291 billion, China surpassed the United States as the largest business travel market in the world in 2015.
The Next Five Years: The Quest for Growth in an Era of Uncertainty
Sustained economic uncertainty and mixed results among the major business travel markets will drive continued moderate growth, but as GBTA looks ahead towards 2020, we expect that there will be a drastic difference in the relative performance of business travel markets around the globe.
Both India and Indonesia will average double-digit growth in business travel spending over the next five years. China's economic growth continues to moderate and GBTA forecasts their business travel market will be the fifth fastest growing major market in the world over the next five years – a vast departure from their #1 average ranking over the last 15 years.
Despite declines in growth, China remains the largest single market opportunity for travel suppliers and marketers as their $291 billion market size coupled with 8.4 percent average growth will lead to the largest gains in spending of any major market by far.
The annual forecast was compiled before the U.K. voted for Brexit on June 23, but the added uncertainty the vote brings will likely make its mark felt on business travel. The financial upheaval and pending changes to trade and immigration rules will raise management heartburn causing some postponement, and even outright cancellation of business trips. It may also trigger travel budget constriction as management seeks to hedge the uncertainty. If the U.K. does enter a mild recession, domestic and outbound business travel will suffer. On the other hand, a much weaker pound will make leisure and business travel to the U.K. a real bargain.
In 2000, $634 billion was spent on global business travel, half of the $1.2 Trillion spent in 2015. Growth has been driven by an increasingly connected world and the rapid maturation of a number of key business travel markets according to a statement of GBTA.
July 12,2016