Himalayan rescue activities in remote mountains of Nepal, HRA holds AGM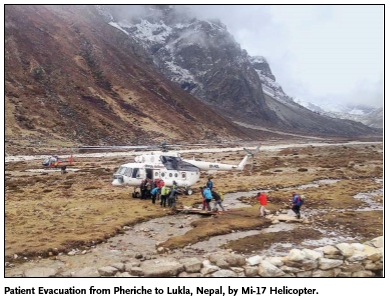 Travel BizNews –
Kathmandu: The 42nd annual general meeting of Himalayan Rescue Association (HRA) concluded here urging national and international stakeholders to cooperate the association to carry out its rescue activities in the Nepal Himalayas.
Addressing the meeting, Chairman of Himalayan Rescue Association Nepal (HRA) D.B. Koirala stressed on integrated approach to facilitate rescue activities in the remote mountain region of the country.
"The permanent aid-posts at Manang , Khumbu village of Pheriche and temporary clinic at Everest Base Camp have contributed a lot to save the lives of people since long , " he added.
HRA General Secretary Basant B. Hamal. Treasurer Shree Ram Khatri and Medical Director Dr. Buddha Basnyat presented reports concerning activities of the organization.
HRA , a voluntary non-profit organization formed in 1973 to reduce casualties in the Nepal Himalayas , has been facing economic and infrastructure problems to expand its activities in the Himalayan region of the country.
The Ministry of Culture. Tourism and Civil Aviation has allocated Rs 6 lac ( US $ 5600 ) for the association this fiscal year.
On the occasion, Australian Ambassador to Nepal Glenn White and Director General at the Department of Tourism Sudarshan Prasad Dhakal presented appreciation certificates to 13 various trekking agencies and travel professionals for their support to medical clinic at Everest Base Camp in spring 2016.
Australian Ambassador to Nepal Glenn White highly praised the natural beauty and amazing tourism products of Nepal.
Recently, Ambassador Glenn White handed over the medical and communication equipment including Oxygen Concentrators, Portable Altitude Chamber, Pulse Oximeter , Satellite Phone sets to HRA. The equipments , purchased with the financial support from DAP Grant , are useful in saving lives in the mountain regions.
HRA has been providing medical service and rescue assistance to Nepali people and foreign trekkers through Manang and Pheriche aid-post as well as EBC medical clinic since the last 40 years. Thousands of trekkers and climbers suffering from Acute Mountain Sickness are treated in the aid posts.
Similarly, HRA operates temporary posts during tourist season at various trekking areas including Na Village in Rolwaling, Gokyo Trail, and Gosaikunda Lake area each year.
Hundreds of Nepali and foreign voluntary doctors and medical professionals have served in the permanent and temporary aid posts located at remote mountains of Nepal since late 1970's.
April 27, 2016