Himalayan Travel Mart in June 2017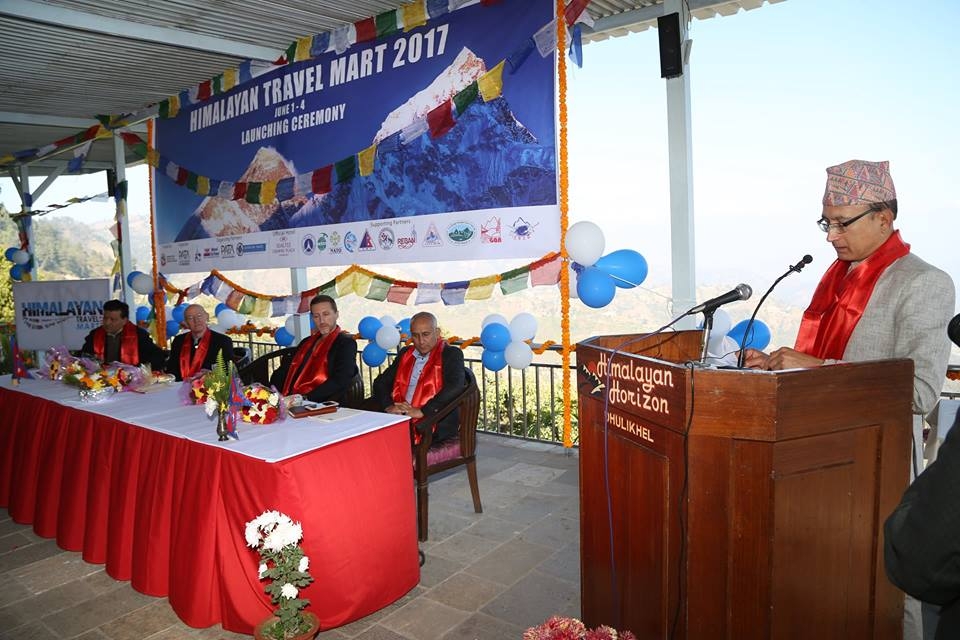 TravelBiz News —–
Kathmandu: Pacific Asia Travel Association (PATA) Nepal Chapter plans to organize Himalayan Travel Mart 2017 o to promote Nepali tourism products and services in the international market.
Himalayan Travel Mart 2017 will be held on June 1-4, 2017 in Kathmandu. A launching ceremony was held amid a function in Dhulikhel on December 5 this year.
The logo of Himalayan Travel Mart was unveiled with participation of around 150 attendees representing Tourism Ministry, NTB, tourism organizations, airlines, hotels and corporate houses.
"With the aim to redefine adventure tourism and establish Nepal, as a Gateway to the Himalaya, PATA Nepal Chapter is organizing the Himalayan Travel Mart 2017 . HTM is a business to business event where buyers from Europe, North America, South America, Australia, New Zealand, Russia and CIS, Asia and Gulf countries with interest in Nepal and the Himalayan region shall attend and sellers comprise from Nepal, India, Bhutan, Bangladesh, Myanmar and Pakistan, " PATA Nepal said in a statement.
A conference on key topics related to Hospitality & Tourism, Aviation and Management will be organized during the mart.
At least 200 International participants comprising tour operators, travel bloggers and representatives of International organizations will participate in the event.
Similarly, PATA Nepal Chapter will organize International Bloggers and Media Conference. Delegates will participate at the celebration of Mt. Everest Day at International Mountain Museum on 29th May, 2017 in Pokhara.
The launching ceremony of mart was jointly inaugurated by MoCTCA Secretary Shankar Prasad Adhikari and Chairman of PATA International Andrew Jones.
The first Himalayan International Travel Mart was organized by Nepal Association of Tour and Travel Agents (Natta) in 2005, attracting more than 200 tour operators from different countries.
December 2016