Holiday season in China and Hong Kong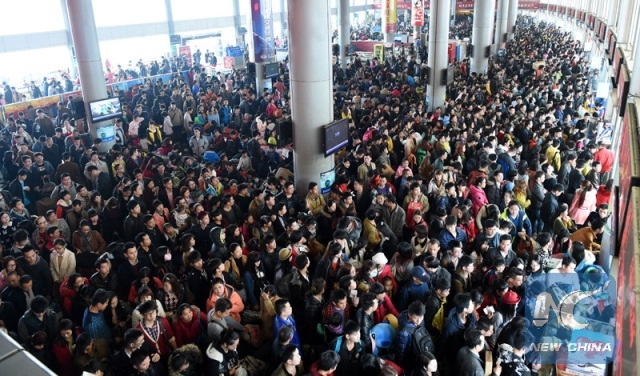 BEIJING – China's transportation system will carry a record number of passengers during the upcoming "Chunyun," peak travel period around the Lunar New Year Festival.
Up to 2.91 billion trips are expected to be made via road, railway, air and water between Jan. 24 and March 3 in the annual migration, up 3.6 percent year on year, said the National Development and Reform Commission (NDRC), the country's top economic planner.
The NDRC asked related agencies to prepare for extreme weather conditions to guarantee safe and smooth traveling and to use technology to improve services.
This year Lunar New Year will fall on Feb. 8.The world's largest human migration, the travel spree will see millions of people traveling home to see their families.
Similarly,the Immigration Department of Hong Kong estimates 7.37 million passengers will pass through land, sea and air checkpoints during the Christmas-New Year holiday period, up 3.9% on last year.
For outbound traffic, the busiest day will be December 25 when an estimated 389,000 passengers leave Hong Kong. Inbound traffic will be at its peak on December 27 when 401,000 passengers are expected to arrive.
About 2.11 million passengers, a daily average of 264,000, are expected to pass through Lo Wu control point from December 24 to 27 and December 31 to January 3.
Passenger traffic at the Lok Ma Chau, Lok Ma Chau Spur Line, and Shenzhen Bay control points will also be heavy, with a daily average of 80,000, 181,000 and 109,000 forecast.
Passengers are advised to plan their trips in advance and avoid making their journeys during busy periods.- Xinhua /HK Agency
This year Lunar New Year will fall on Feb. 8.The world's largest human migration, the travel spree will see millions of people traveling home to see their families.- HK Agency / Xinhua