HRA to strengthen rescue and training activities in mountain regions of Nepal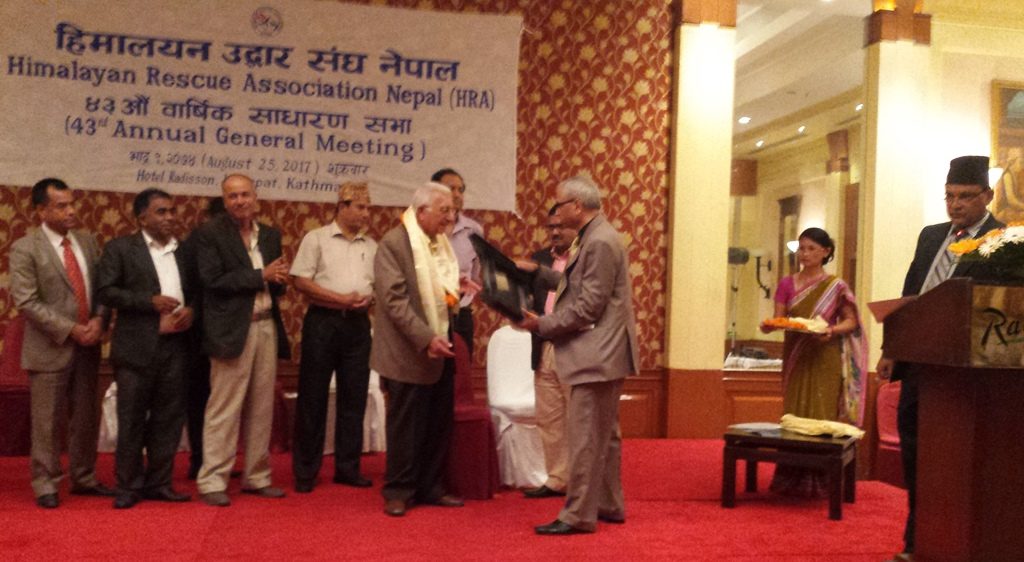 TrvelBizNews Online —
Kathmandu: Himalayan Rescue Associations Nepal commits to expand rescue and training activities in mountain regions of Nepal.
Addressing a program organized here, Chairman of the Himalayan Rescue Association Nepal (HRA) Narendra Deo Bhatta highlighted on programs to install information board in domestic and international airports to disseminate information on high altitude sickness and other health problems in Himalayan region .
"The services and facilities at Medical Aid-post at Manang of Annapurna Region, Everest Base Camp and Temporary Medical Camp at Gosainkunda will be strengthened," Bhatta said.
"The association has contributed a lot to promote mountain tourism by making mountains of Nepal safer for mountaineers, trekkers, guides and porters besides providing medical service and rescue assistance to the people suffering from high altitude sickness in the mountains," he added.
Thousands of people are getting medical services and rescue assistance in the mountain region of Nepal each year through Pheriche and Manang medical posts. Annapurna and Everest region are most popular destinations for trekkers and mountaineers.
HRA felicitated veteran tourism entrepreneur and Chief Patron Tek Chandra Pokhrel for his contribution in strengthening lofty goals of the association. Pokhrel was founding chairman of the association in 1973.
Director-General of Department of Tourism Dinesh Bhattarai and HRA Chairman Bhatta conferred Chief Patron honor to Pokhrel besides felicitating police officer Durga Bahadur Rana .
On the occasion, HRA presented letters of appreciation to various expedition operator companies for their support to the association for running medical clinics at Manang and Pheriche .
Earlier, Chairman Bhatta , General Secretary Prithbi Shrestha , treasurer Shreeram Khatri , Medical Director Dr. Buddha Basnyat and Chief Executive Prakash Adhikari presented their respective reports at the 43rd annual general meeting of HRA held in the capital on Friday.
Hundreds of Nepali and foreign voluntary doctors and medical professionals have served in the permanent and temporary aid posts located at remote mountains of Nepal since late 1970's.
HRA , a voluntary non-profit organization formed in 1973 to reduce casualties in the Nepal Himalayas , has been facing economic and infrastructure problems to expand its activities in the Himalayan region of the country.
Aug. 26, 2017