IATA announces new leadership ,Willie Walsh new Chairman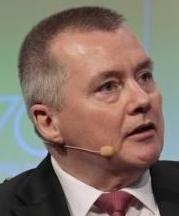 TravelBizNews Desk —
Dublin ( IATA ) – The International Air Transport Association (IATA) announced leadership changes at the conclusion of the Association's 72nd Annual General Meeting (AGM) in Dublin, Ireland.
Willie Walsh, CEO of International Airlines Group (IAG) succeeds Andres Conesa, CEO of Aeromexico, as Chairman of the IATA Board of Governors (BoG). Walsh, who represents British Airways (BA) on the IATA BoG, takes up his duties immediately for a one-year term until the conclusion of IATA's 73rd AGM.
Alexandre de Juniac, Chairman and CEO of Air France-KLM, was confirmed to succeed Tony Tyler as IATA's Director General and CEO. His appointment is effective from 1 September 2016.
Walsh is the 75th Chair of the IATA BoG and the sixth to fulfil that function while representing BA or its predecessor airlines. He has served on the IATA BoG continuously since 2005.
The Board appointed Goh Choon Phong, Chief Executive Officer, Singapore Airlines, to serve as Board Chair-elect for a one-year term as from the close of the 2016 AGM and to take office from June 2017 following Walsh's term.
The 72nd AGM approved the Nominating Committee's recommended appointments to the current BoG bringing it to full strength with 31 members.
Director General and CEO Designate De Juniac is a French businessman. He will join IATA from Air France-KLM where has served as Chairman and CEO since 2013.
June 3 , 2016