World Buddhist conference in Shaanxi China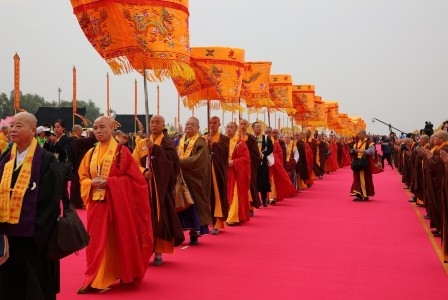 Baoji : The 27th General Conference of the World Fellowship of Buddhists opened on Oct 16 in the Famen Temple Buddhist Cultural Area in Baoji, Shaanxi province of China.
More than 600 Buddhists from about 30 countries , including the Republic of Korea, the Democratic People's Republic of Korea, Japan, Mongolia, Nepal and India, as well as the Chinese mainland and Hong Kong, Macau and Taiwan ,took part in the grand event to promote Buddhism around the world.
Zhang Jingyuan, deputy mayor of Baoji and deputy director of the conference's organization committee, said that more than 30 themed meetings and 14 activities will take place during the five-day conference on the development and dissemination of Buddhist culture.
WFB originated at a meeting in present-day Sri Lanka in 1950 with the objective of unity, solidarity and brotherhood among Buddhists to propagate the sublime doctrine of the Buddha for securing peace and happiness of humankind. The WFB currently has 181 regional centers in 50 countries and regions worldwide.
Phallop Thaiarry, WFB secretary-general, said that according to the WFB Constitution, the General Conference must take place every two years to exchange ideas, opinions and experiences among each other, and create uniform policies for all its regional centers. The WFB says this will eternally enhance and contribute to the solidarity and unity among Buddhists worldwide.
The Buddhist Association of China and Chinese people have also taken part in establishing the WFB since its inception.
"This is the first time the People's Republic of China has hosted the WFB General Conference, and the organizing committee of the conference selected Baoji in Shaanxi province as the place of the conference due to its history of Buddhism propagation and being the learning center of Buddhism for a long time, including the primary route of religious," Thaiarry said.
Buddhist leaders from around the world are gathering in China to pray for peace. The 27th General Conference of the World Fellowship of Buddhists is meeting at the Famen Temple, in Baoji, in the northwest province of Shaanxi.
"The hosting of the World Buddhist event reflects the fast growth of Buddhism, and the increasing numbers of Buddhists in China. China's Buddhism has been in a period of rapid development ever since the country's reform and opening up policy. Chinese society has a good basis for promoting the Buddhist beliefs," Master Xuecheng, vice president of Chinese Buddhist Association, said.
The 1,700 year-old Famen Temple is known as the home to a major Buddhist treasure. It's believed to be the finger bone of the Buddha himself, Sakyamuni. Today, the ancient temple will witness a historic moment, as Chinese Buddhism goes further to the outside world.
This is the first time Bangkok-headquartered World Fellowship of Buddhists (WFB) is holding its general conference in the Chinese mainland.
The 11th Panchen Lama, Bainqen Erdini Qoigyijabu and chief abbot of Japan's Sogen-ji Temple, Nichiyu Mochida are among the Buddhist leaders attending the event, Xinhua news agency reported.- Agencies
October 16, 2014