International conference advances the Western Silk Road as a transnational initiative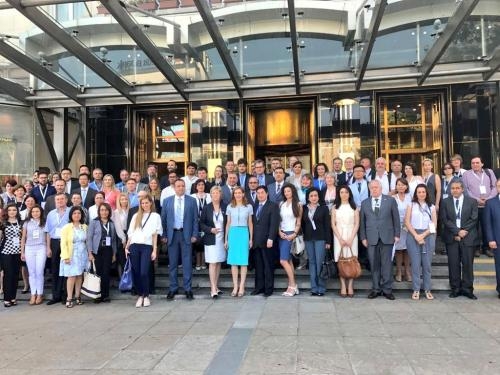 TravelBizNews Online —
Madrid : The 2nd International UNWTO Western Silk Road Workshop has focused on development of silk road for joint prosperity of the countries.
The World Tourism Organization (UNWTO) and the Ministry of Tourism of the Republic of Bulgaria hosted the 2nd International UNWTO Western Silk Road Workshop in Sofia, Bulgaria, on 27-28 June 2017.
The workshop was attended by 22 countries and consolidated the results of the first workshop held in Greece in April 2017 according to a statement issued by UNWTO.
The event is part of the 'Enhancing the Understanding of European Tourism' project developed by UNWTO in cooperation with the Directorate-General for Internal Market, Industry, Entrepreneurship and SMEs of the European Commission (EC).
Opening the event alongside the Minister of Tourism of Bulgaria, Nikolina Angelkova, UNWTO Executive Director for Technical Cooperation and Services, Zhu Shanzhong stressed "the importance of an initiative based on sustainable cross-border partnerships and the participation of a wide range of tourism stakeholders is remarkable".
Recalling the upcoming 2018 EU-China Tourism Year, Zhu Shanzhong said "The Silk Road's tourism success depends on multilateral cooperation. UNWTO believes that collaborative tourism development across regions enhances innovation, quality and the attractiveness of tourism products, all of which accelerate economic growth and promote stronger integration between the regions. Therefore, I would like to express UNWTO´s gratitude to Bulgaria for hosting this workshop, which will help raise the profile of the Silk Road as a world-class network of destinations".
"This seminar was a useful platform for expertise exchange, as well as a tool for creating best practices in the sector. Attracting tourists can be achieved through the implementation of joint tourism packages or products focused on Silk Road Heritage. Considering the upcoming Bulgarian Presidency of the Council of the European Union in 2018, our country will have the opportunity to promote the Silk Road throughout the events and initiatives organized by the Ministry of Tourism" said the Minister of Tourism of Bulgaria, Nikolina Angelkova.
During the workshop UNWTO presented the main findings of the Western Silk Road study, an innovative research that brings the input of tourism stakeholders together with valuable contributions from participating universities and focus group from across the Western Silk Road region.
The research offers valuable insight as to how the historic Silk Road routes shaped the cultural and natural scenery of Europe and contains proposals for the development of sustainable tourism initiatives along the participating destinations.
The event further included two specialised sessions (on product development and on tourism certification and quality standards) as well as a B2B speed-networking session for National Tourism Administrations, tour operators and SMEs, universities, tourist guide associations and cultural route representatives.
All conclusions from the Workshops will be assessed and incorporated into the Western Silk Road Roadmap.
July 5, 2017