International conference on Hindu Kush Himalaya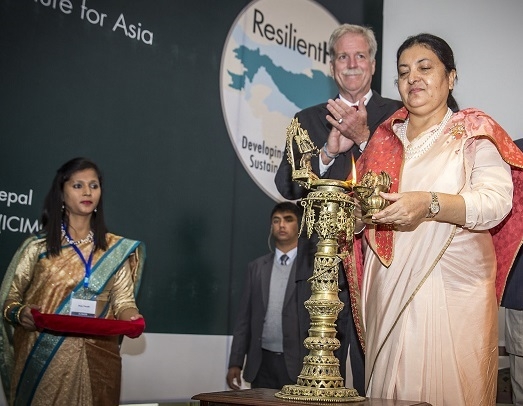 TravelBizNews —
Kathmandu : International conference on " Resilient Hindu Kush Himalaya: Developing Solutions towards a Sustainable Future for Asia " opened here today .
Four hundred experts from around the world are taking part in the international conference.The conference will discuss on strengthening the fragile environments and communities of the Hindu Kush Himalaya (HKH), a mountain range that spans from Afghanistan to Myanmar during four days of the conference.
President Bidya Devi Bhandari inaugurated the conference today followed by a panel discussion on the role of a resilient HKH for creating a more sustainable Asia.
Minister of Population and Environment Mithila Chaudhary, Secretary Prakash Mathema, ICIMOD Board Chair and Secretary of the Ministry of Agriculture and Forest, Bhutan Dasho Rinzin Dorji , ICIMOD's Director General David Molden and EU's Ambassador to Nepal Veronica Cody stressed on joint efforts to solve the problems of the HKH countries.
The HKH sources 10 major river systems in Asia that provide water, ecosystem services, and livelihoods to more than 210 million people. The region holds and distributes water for more than 1.3 billion people living in downstream river basins.
Climate change and other drivers of change in the HKH have already begun to impact ecosystems and communities increasing vulnerability and exposure to natural disasters such as floods, droughts, and landslides.
The conference , cohosted by Ministry of Population and Environment (MOPE), and the International Centre for Integrated Mountain Development (ICIMOD) , will discuss on ideas and solutions to create effective and sustainable changes to improve mountain livelihoods during the four day deliberations.
The conclusions drawn from the conference will add a mountain perspective to larger global agreements, such as the Sustainable Development Goals (SDGs) – the United Nations' set of milestones for eradicating poverty and tackling climate change by 2030.
The Resilience conference is an indication that ICIMOD's eight regional member countries recognize the need for a collaborative approach to achieve the SDG targets.
Earlier, fifty energy experts from Afghanistan, Bangladesh, Bhutan, China, India, Myanmar, Nepal, and Pakistan discussed the technical and institutional design of the Hindu Kush Himalaya Centre for Renewable Energy and Energy Efficiency (HCREEE) in a regional workshop.
Dec. 3 , 2017