International tourist arrivals up in January-April of 2017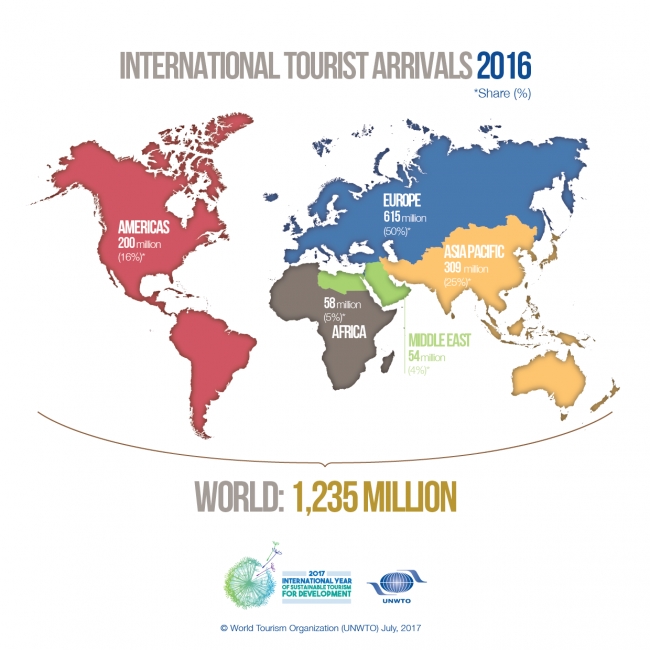 TravelBizNews Online —
Madrid : More than 369 million international tourists (overnight visitors) visited different parts of the world in the first four months of the year, 21 million more than in the same months of 2016 , according to the latest UNWTO World Tourism Barometer.
International tourist arrivals worldwide grew by 6% in January-April of 2017 compared to the same period last year, with business confidence reaching its highest levels in a decade.
Sustained growth in most major destinations and a steady rebound in others drove results. Prospects for May-August 2017 remain high.
The January-April period usually represents some 28% of the yearly total and covers the winter season of the Northern Hemisphere and the summer season of the Southern Hemisphere, as well as the Chinese New Year and Easter holidays, among others.
International arrivals reported by destinations around the world were positive overall, with very few exceptions. Most of 2016's strong performers maintained momentum, while destinations that struggled in previous years continued to rebound in the first part of 2017.
This is especially reflected in the better results of the Middle East , Africa and Europe. Asia and the Pacific and the Americas continued to enjoy robust growth.
"Destinations that were affected by negative events during 2016 are showing clear signs of recovery in a very short period of time, and this is very welcoming news for all, but particularly for those whose livelihoods depend on tourism in these destinations", said UNWTO Secretary-General Taleb Rifai.
Experts also show strong confidence in the current May-August period, as their prospects are the most optimistic in a decade, also driven by upbeat expectations in Europe.
The May-August period includes the peak tourism season in most of the world's major tourism destinations and source markets according to UNWTO.
July 15 , 2017