Is Nepal Safe for Travelers?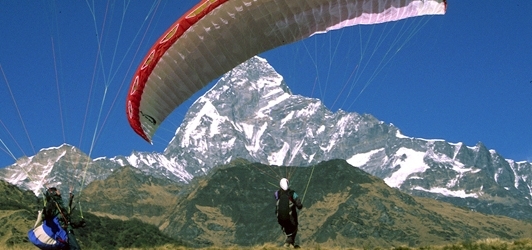 By Kraig Becker —
The April 25 earthquake that devastated Nepal continues to have a far-reaching impact on the country, and will no doubt shape its future for decades to come. Now that things have calmed down there to a degree, the rebuilding and recovery process is finally getting underway at long last.
In addition to the significant damage done to Nepal's infrastructure, and the tragic loss of life, the country is now facing another major challenge in terms of how it will rebuild its economy in the wake of this disaster. Recent reports estimate that $10 billion of damage was done by the quake, which is half of the country's GNP. That may be hardest challenge to overcome of them all.
Nepal is one of the poorest countries in the world, and its remote rural regions depend on tourism to survive. But foreign travelers are nonexistent in the country at the moment, as many travel companies have cancelled their tours, and are taking a "wait and see" attitude as to when they could possibly return. The Ministry of Tourism issued a statement saying that most parts of the country are safe and free from problems, including the famous trekking routes to Annapurna and Everest. But a number of villages have been completely flattened in those areas, and many of the the traditional teahouses that typically house visitors along those hikes have suffered some damage too.While those areas may be safe, they don't necessarily have the infrastructure in place to support visitors right now.
It is true that much of the damage from the earthquake is found in just 8 of the country's 75 districts. Only one of its national parks has been affected, and all highways and roads are said to be open. Of the 8 UNESCO World Heritage Sites, two have been damaged and are already starting to be repaired. About 90% of the hotels in Kathmandu Valley are open, and accepting visitors, and all airports are open and operating too.
Knowing all of that, it is technically safe to travel in Nepal at the moment, but that doesn't mean it is is a good place to be. There is a lot of clean-up that needs to be done, and the people there are only now starting to heal. While the government is ready to get the tourism economy going once again, the average Nepali person is still busy putting their lives back together. The road to recovery is going to be a long one, and tourism will eventually have a part to play. But for now, it simply isn't time to go unless you are there to help contribute to the recovery process. http://adventuretravel.about.com/
The outpouring of support for Nepal from the outdoor and adventure travel community has been impressive to say the least. Dozens of companies have joined together to raise funds for the struggling country, while others, such as Eureka!, have donated tents, sleeping bags, and other gear to help protect Nepali citizens, many of whom no longer have homes. But there are a number of other initiatives in motion as well, some of which are designed to have a long lasting impact on Nepal's future. For instance, the Adventure Travel Trade Association (ATTA) has announced that it plans to hold AdventureWeek Rebound-Nepal to bring a focus on the return of tourism to the country. There is no date set for the event just yet, but the ATTA is considering possibly holding it as soon as this summer, most likely post-monsoon season.
( The writer is Adventure and Outdoor travel expert . Courtesy : adventuretravel.about.com June 1, 2015 )