ITB Berlin 2017: 10,000 exhibitors from over 180 countries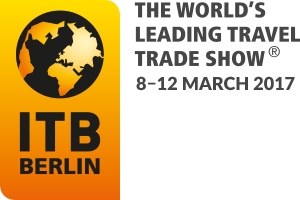 TravelBizNews —
Berlin : Around 10 thousand exhibitors from over 180 countries and lectures by leading figures from the industry, ITB Berlin will underline its role as the World's Leading Travel Trade Show from 8 to 12 March in Berlin .
At this year's ITB Berlin Convention the main topics will be safety and security and artificial intelligence. Leading international experts from Google, Booking.com and Airbus will show how tourism professionals are successfully taking on controversial issues and current challenges such as geopolitical crises, travel safety risks and the use of artificial intelligence.
Medical tourism has become an important and fast-growing market. For the first time ITB Berlin will devote an entire platform to this topic.
This year ITB Berlin welcomes Botswana as the partner country of the show. The warm hospitality displayed by its people and its commitment to sustainable tourism make Botswana an unrivalled holiday destination in southern Africa.
This year, Travel Technology and Gay & Lesbian Travel have expanded again. ITB Berlin currently has more to offer in these segments than any other travel trade show.
Following the big success of the event in recent years, in partnership with National Geographic Travel and taking place for the third time ITB Berlin will present the World Legacy Awards to tour operators with an outstanding commitment to sustainable tourism.
World's Largest Travel Trade Show focuses on the 'International Year of Sustainable Tourism for Development 2017' – forward-looking projects and a new impetus for social responsibility in tourism on the stages in Hall 4.1 and at the ITB Berlin Convention
A fresh impetus for CSR in tourism: the United Nations has declared 2017 the 'International Year of Sustainable Tourism for Development'. Economically, ecologically and socially responsible tourism has always been an important topic at the World's Leading Travel Trade Show. This year the lectures, panel discussions and seminars are more wide-ranging than ever.
"Sustainability has long ceased to be a trend. It has become a firmly established topic at ITB Berlin. The Year of Sustainable Tourism for Development declared by UNWTO provides an opportunity to get the necessary industry changes under way. The aim is to support the 2030 Agenda for Sustainable Development and its sustainability goals in the context of tourism. This year, ITB Berlin will again be making its contribution towards greater responsibility and sustainability", says Rika Jean-François, CSR commissioner, ITB Berlin.
March 7 , 2017