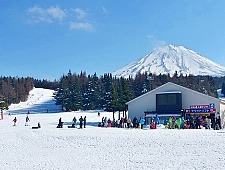 There are over 500 ski resorts across Japan from the northern island of Hokkaido to the southern main island of Kyushu, which vary in size from large resorts with dozens of runs to small one-lift slopes. The best resorts and snow conditions are found in northern Japan (Hokkaido and Tohoku) and in the mountains along the Sea of Japan Coast (especially Niigata and Nagano).
While there are no ski resorts within the borders of metropolitan Tokyo, it is feasible to go skiing or snowboarding in a daytrip from Tokyo. Some of the most easily accessible and most popular resorts for daytrips are located in the Yuzawa region of Niigata Prefecture, which can be reached in only 90 minutes by shinkansen. There are also a couple of small resorts on Mount Fuji.
For those who are interested in experiencing snow, but who do not want to ski or snowboard, most resorts have play zones designed for families with small children. Often, they do not require paid admission, except for activities such as sledding and snow tubing. For information on other places to see snow that are within easy reach of major cities see our page on where to find snow.
Below is a list of some of Japan's most notable ski resorts:
Hokkaido -Furano
Furano Ski Area
Furano is another popular ski resort in Hokkaido with excellent snow conditions. The resort is located to the east of Sapporo, and has a large Family Snowland which offers family friendly activities such as snow rafting and dog sledding.
Hokkaido
Niseko
Niseko attracts a lot of overseas attention, and is especially popular with Australians. It is probably the most visited Japanese ski and snowboard resort by foreigner travellers and is very English friendly. The almost guaranteed powder snow and fantastic views of Mt. Yotei make this a very popular destination.
Hokkaido
Rusutsu
Not far from Niseko and Lake Toya, Rusutsu covers three mountains, each with a variety of long runs with a good mix of groomed trails, great powder and tree runs. During the summer the resort operates a large amusement park with over 60 attractions and 8 roller coasters.
Sapporo
Teine Ski Resort
Sapporo Teine is the largest of several small to medium sized ski resorts in the immediate surroundings of Sapporo. It served as the venue of several alpine ski events during the 1972 Sapporo Olympics.
Hokkaido
Tomamu
Tomamu is a large snow resort in central Hokkaido, built around an all-inclusive hotel resort complex that offers a large pool, hot spring facilities, an ice village and multiple hotel buildings, including some skyscraper towers.
Tohoku
Zao Ski Resort
Zao Onsen is one of Japan's oldest ski resorts with a large number of runs for all skill levels. Hot spring baths, filled by high quality water, offer relaxation after a day on the slopes. The resort is famous as one of only few places in Japan to see snow monsters.
Bandai Ski Resorts
Multiple ski resorts of varying sizes are located along the slopes of Mount Bandai, a prominent volcano in the interior of Fukushima Prefecture which escaped major contamination by the nuclear accident. The resorts offer fine views of the mountainous landscape and Lake Inawashiro.
Nagano, Niigata and Gunma
Yamanouchi
Shiga Kogen Resort
Shiga Kogen is the biggest skiable area in Japan. The resort area is actually over 20 resorts most of which are linked up by ski courses. One pass allows access to them all and offers a huge amount of variety as well as generally excellent snow conditions.
Nagano Prefecture
Hakuba
Hakuba is another very popular ski and snowboard town located in the northwest of Nagano Prefecture. Happoone resort was host to downhill events in the 1998 Nagano Winter Olympics and the general scale of the resorts in Hakuba is impressive.
Niigata Prefecture
Yuzawa
Yuzawa is just a 80 minute train ride from Tokyo, with one resort connected directly to a shinkansen station, making it the most convenient ski town for a day trip from the Tokyo area. There are additionally another 20 or so ski resorts within easy reach of the main Echigo-Yuzawa Station.
Nozawa Onsen
Nozawa Ski Resort
Nozawa is one of the best ski resorts in Japan that really delivers the Japanese skiing experience. The small village nestled at the base of the resort is compact and has a good atmosphere, and notably has a number of atmospheric public hot springs that you can enjoy after skiing.
Kusatsu Onsen
Kusatsu Ski Resort
Kusatsu Onsen is a famous hot spring resort in the mountains of Gunma Prefecture, boasting some of Japan's best hot spring waters. Its ski resort, Kusatsu Kokusai, is relatively small with only one main run, but the run is with eight kilometers one of Japan's longest.
Mount Fuji
Fuji Five Lakes
Fujiten Snow Resort
Fujiten is the larger of two small ski resorts on the slopes of Mount Fuji. Its main attraction is its location on Japan's most famous mountain, but there are few other reasons to select it over one of the larger resorts in Niigata or Nagano.
Snow Town Yeti
Yeti is the smaller of two small ski resorts on the slopes of Mount Fuji. It is also the first resort in Japan to open each year (in mid October with man made snow). The resort's main attraction is its location on Mount Fuji. Source: japan-guide.com