' Kanchenjunga Spice Garden Tourism Trail ' developed in Taplejung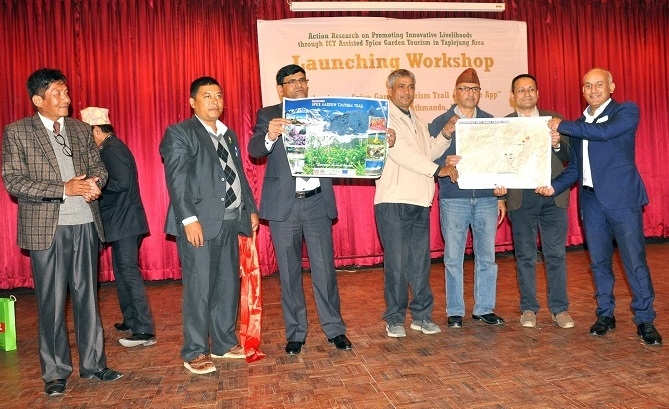 TravelBizNews —
Kathmandu: Agro-based tourism product "Kanchejunga Spice Garden Tourism Trail" has been developed in eastern district Tapejung.
The project intends to address tourism destination (cardamom farm) development related forward and backward linkages at implementation level according to TAAN.
International Centre for Integrated Mountain Development (ICIMOD) and Trekking Agencies' Association of Nepal (TAAN) have collaborated to promote Innovative Livelihood through Information and Communication Technology (ICT) assisted Tourism Project in Taplejung.
Its purpose is to increase access to and enhance livelihood opportunities of the marginalized mountain communities of Taplejung area. The project emphasizes on collaborative partnership model and partnered with TAAN, Wolfmatrix Pvt. Ltd, Environment and Conservation Development (ECDF), Phungling Municipality, Nepal Tourism Board (NTB) and Ministry of Tourism and Civil Aviation (MoCTCA) .
TAAN has been critical in developing spice garden trails, capacity building, and in marketing and publication. This newly developed tourism product is an associate tourism trail within the existing trail of Pathibhara Pilgrimage trail, Kanchenjunga Base Camp trekking, Lumba Sumba adventure trekking, Tinjure- Milkey- Jaljale Rhododendron Trail and other many more cultural and natural heritage trails of Taplejung District.
Another major attraction of this project is development of Mobile Application (spice gardens) of the newly developed tourism product ("Kanchanjunga Spice Garden Tourism Trail") for online promotion and marketing.
An event on tourism product (Kanchanjunga Spice Garden Tourism Trail Map) and mobile apps launch and interaction programme was organized here on Friday.
The map was designed by Bachchu N Shrestha and Anu K Lama, in partnership with Himalayan Map House . Trails featured in the map mainly covers Cardamom Farm Gardens of Fungling Bazar, Furumbu and Sikaicha of Phungling Municipality and Sattal Danda Community Home Stay and Gumba Danda Home Stay among others.
Nov . 18 ,2017