Lumbini : A Pilgrimage Destination of the Buddhists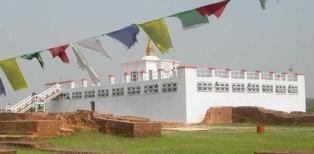 By Ramesh Tiwari ——————————-
The celebration of Visit Nepal Year-1998, Nepal Tourism Year-2011 and Visit Lumbini Year-2012 has given a clear message that the country should have a planned strategy and commitment for overall development of tourism in Nepal. Against the backdrop of failure of reaching targets of VNY-1998 and NTY-2012, the Government of Nepal formally announced Visit Lumbini Year (VLY) from Lumbini on December 1, 2011. Subsequently, the first President of Democratic Republic of Nepal Dr. Ram Baran Yadav launched the VLY – 2012 on January 14, 2012. Nepal has also launched ' Tourism Vision 2020 ' setting out its goal to increase annual international tourist arrivals to Nepal to two million and generate employment in tourism sector to one million by 2020.
Visit Lumbini Year-2012 marked the beginning of a new mission and a national campaign to attract a million tourists to Lumbini in 2012, but the year could not be fruitful like the VNY-1998 and NTY-2011. Though the bureaucrats of the Nepal Tourism Board (NTB) opine that VLY-2012 is a key linkage between Nepal Tourism Year 2011 and Tourism Vision 2020 to accelerate tourism development of the country, VLY-2012 proved to be a herculean task limited in slogan and speeches throughout the year. Due to lack of coordination between the government, NTB, Lumbini Development Trust and the private sector, the VLY-2012 campaign proved an incoherent campaign. The national campaign could not be a success story in the annals of Nepal tourism.
The Government of Nepal declared VLY-2012 with an ambitious plan of attracting one million tourists along with promotion of the birthplace of Gautam Buddha in international travel market but the number of tourists visiting Lumbini during VLY – 2012 could not meet the target set by the government . According to Lumbini Development Trust, a total of 758,269 tourists visited Lumbini in 2012 including 509,073 Nepali tourists. Travellers from different 92 countries of the world visited Lumbini during VLY-2012 including 113,195 tourists from India, 52,671 from Sri Lanka, 28,480 from Thailand, 17,595 from Myanmar, 8,598 from China, 5158 from South Korea and 1,779 from Japan. Nepal welcomed a total of 598,204 foreign tourists in 2012, who entered Nepal by air routes.
Though the Lumbini Development Trust claims that the number of tourists and pilgrims visiting the holy birth place of Shakyamuni Buddha and World Heritage Site Lumbini has increased due to declaration of VLY-2012, publicity campaigns, development activities of LDT, better accommodation and transport facilities and promotion of Lumbini , the tourist arrivals figure is not satisfactory keeping in view the glory of Lumbini. Tour operators and travel trade professionals assert that the number of passport holder tourists to Lumbini could not be significant owing to lack of promotional activities specially in predominantly Buddhist countries, inadequate infrastructure in and around Lumbini , limited activities concerning VLY and government apathy towards development of Lumbini. The arrival of 136,001 passport holder visitors to Lumbini in 2012 can't be considered a success in comparison to millions of tourist arrivals in world renowned pilgrimage centers such as Mecca of Islam and Jerusalem of Christian community.
The Apostle of Peace and Light of Asia Lord Buddha was born in Lumbini in 623 BC. Prince Siddhartha (later known as Buddha) took his first seven steps and uttered an epoch-making message to the suffering humanity from holy place Lumbini . Lumbini has witnessed ups and downs of historical periods, but still dreaming to be a holy site of nearly 550 million of Buddhists around the world like other international pilgrimage centers.
The year 1967 is considered a milestone in the modern history of Lumbini, when the then General Secretary of the United Nations U Thant urged the international community to develop Lumbini as an international pilgrimage and tourist center. As a result, the international Committee for the Development of Lumbini (ICDL) was set up in 1970 comprising of 16 member states. ICDL initiated preparation of the Master Plan for Lumbini at the international level and Lumbini Development Trust was established to expedite development of Lumbini. The Master Plan prepared by renowned Japanese architect Prof. Kenzo Tange in 1978 consists of three parts- the Sacred Garden, the Monastic Zone and the Lumbini Village covering an area of 25 sq. km. UNDP contributed about 1.9 million US $ to prepare Lumbini Master Plan during 1970-1978.
Lumbini Master Plan developed by Prof. Tange is still limited in plans, though some construction works are in process of completion. The goal to develop Lumbini as an international pilgrimage and tourist center could not materialize due to reluctance of the government over the years. Lumbini Development Trust ( LDT) ,which was set up to take over responsibility of overall management and development of Lumbini ,lacks vision and commitment due to political interference in LDT activities. As the cadres of political parties are appointed in the management committee of LDT in recent years, the Trust Fund is misused. We can't expect development of Lumbini until and unless the political interference ends in the management of LDT.
At a time when implementation of the Lumbini Master Plan prepared by Prof. Tange is still a dream for the Buddhists all over the world , South Korean urban planner and designer Prof. Kwaak Young Hoon has unveiled proposed sketch of another " Lumbini Development Master Plan" to develop Lumbini as a hub of world peace , prosperity and harmony.
According to Prof. Kwaak , the project area will cover 5 sq. miles or 6400 hectares divided into Buddha,Dharma, Sangha,and Upasaka zones. He says ,' The Lumbini Development Master Plan is the plan to develop Lumbini into Vishwa Shanti Nagar (World Peace City) that incorporates the religious, socio-cultural, historical, archaeological, environmental, educational and spiritual significance of Lumbini, the holy birthplace of Sakyamuni Buddha and other important Buddhist sites in its peripherals conveying the message of universal peace, harmony and prosperity .It is a lotus-shaped plan designed being inspired the philosophical significance of the lotus flower underlying in Buddhist principles and teachings. "
The new master plan of Lumbini is said to be completed by mid-2013 and the Peace City will be constructed in a shape of lotus flower with an investment of US $ 3 billion. UN Secretary General Ban Ki- Moon has assured 72-year old Prof. Kwaak his full support and cooperation to develop Lumbini as per his new master plan.
The development of Lumbini is also considered as a goose that lay golden eggs to some people having vested economic interests. In this context, Asia Pacific Exchange and Cooperation Foundation (APECF), the Hong Kong based NGO aspiring to implement the $ 3 billion Lumbini Recovery Plan, intends to develop Lumbini as an ultimate pilgrimage destination for the Buddhists around the world within nine years. The APECF projects include world's biggest Buddha Statue (80 m high), international airport, five-star hotel, shopping malls, Buddha museum and research center and archeological landscape garden.
The Maoist-led government of Nepal constituted a six-member Lumbini Area Development National Directive Committee (LDNDC) under the leadership of UCPN- Maoist Chairman Pushpa Kamal Dahal ' Prachanda ' in October 2011. According to the cabinet decision, the committee was given responsibility to prepare master plans for the development of Lumbini incorporating three districts – Rupandehi, Kapilbastu and Nawalparasi. Mr PK Dahal 'Prachanda' is co-chair of the controversial NGO Asia Pacific Exchange and Cooperation Foundation (APECF), which is interested to commercialize the birthplace of Buddha in pretext of developing Lumbini as a Buddhist center.
The signing of a MoU between the Lumbini Development National Directive Committee (LDNDC), headed by the Chairman of the United Communist Party of Nepal (Maoist) and the APECF has raised serious questions. The MoU was not only signed without approval from the concerned ministries of Nepal Government on Nov.7, 2012, APECF also clarified that it will not invest a single penny in the $ 3 billion project. Though the $ 3 billion project is said to be supported by Chinese leaders, APECF said it has no Chinese backing, official or unofficial. India is against third country participation in developing Lumbini.
Similarly, United Nations agencies UNESCO and UNIDO including India have expressed serious concerns over the Nepal government move to allow a Chinese INGO to carry out a controversial multi-billion dollar project in Lumbini. The UNESCO has objected to the plan to develop Lumbini against the Master Plan that contains components of Sacred Garden, Cultural Center/ Monastic Zone and the Lumbini Village. Buddhist organizations urge for national consensus to develop Lumbini and all the initiatives of the stakeholders transparent. As long as corrupted politicians and commission agents eye for misuse of funds in the name of Lumbini development, the implementation of Lumbini Master Plan will be confined to plans and programmes.
While Nepal is still thinking to attract a large number of tourists to Lumbini , India has launched a tourism campaign targeting the world's fastest growing Buddhist population with a direct sales pitch: ' Visit India and reconnect with your Faith'. India is trying to attract two fast growing population segments in China – followers of Buddhism numbering between 100-200 million and a fast expanding outbound tourism market. Every year more than 70 million Chinese travel abroad and spend in excess of $ 40 billion overseas.
Some section of Indians even today are misinforming the people in regards to birthplace of Buddha and propagate that Buddha was born in India. As a result, Nepal has to counter the propaganda very often. Sculptures of Queen Mayadevi dating back to the 4th century AD, an infant Siddhartha in the Mayadevi temple complex and a pillar erected by the Mauryan Emperor Asoka during his visit to Buddha's birthplace are evidence in context to the birthplace of Buddha.
According to the Lumbini Development Trust,there are 62 archaeological sites scattered outside the Lumbini Garden. Lumbini Buddhist Circuit Tour covers Tilaurakot , Kudan,Gotihawa,Niglihawa, Sagarhawa,Aurorakot,Devadaha and Ramgrama.
Similarly,Buddhist Circuit.Com, a subsidiary of Himalayan Expedition of Nepal , has developed a pilgrimage itinerary to promote Buddhist tourism in Nepal. The Buddhist Circuit in Nepal includes holy sites like Bauddha, Swayambhu, Namobuddha, Kapilvastu, Tilaurakot, Kudan, Niglihawa, Sagarhawa, Baan Ganga, Maya Devi Temple and Ram Gram as developed by the company promoted by senior tourism entrepreneur Bikram Pandey. Shakya Muni Buddha Lumbini Peace Marathon, organized each year by HIMEX in cooperation with other organizations, has contributed to promote Buddhist holy sites related to Buddha's life.
As Nepal is trying to develop Buddhist Circuit to lure Buddhist tourists from different countries of South East Asia including China and Japan, India has given top most priority to promote its Buddhist Circuit with a lucrative package programme. India announced plans to attract more than 5 million Buddhists or Buddhism-related tourists with its Buddhist Circuit route during the International Buddhist Conclave held in Varanasi, India from Sept 28-30, 2012.
The Ministry of Tourism Of India has taken initiatives to identify spiritual tourism circuits including Buddhist Circuits. India has identified three circuits to be developed as parts of Buddhist Circuits during the 12th Five Year Plan.They are:
Circuit 1: The Dharmayatra or the Sacred Circuit – This will be a 5 to 7 days circuit and will include visits to Gaya (Bodhgaya), Varanasi (Sarnath), Kushinagar, Piparva with a day trip to Lumbini in Nepal.
Circuit 2: Extended Dharmayatra or Extended Sacred Circuit or Retracing Buddha's Footsteps – This will be a 10 to 15 days circuit and will include visit to Bodhgaya (Nalanda, Rajgir, Barabar caves, Pragbodhi Hill, Gaya), Patna (Vaishali, Lauriya Nandangarh, Lauriya Ariraj, Kesariya, Patna Museum), Varanasi(Sarnath), Kushinagar, Piparva (Kapilvastu, Shravasti, Saniska) with a day trip to Lumbini in Nepal.
Circuit 3: Buddhist Heritage Trails State Circuits- Jammu and Kashmir – Ladakh, Srinagar and Jammu; Himachal Pradesh – Dharamshala, Spiti, Kinnaur and Lahaul.
Tourists from countries having sizable Buddhist population such as Thailand and Malaysia are provided the facility of Visa on Arrival (VOA) and the Tourism Ministry of India is drawing up plans to attract more tourists from Buddhist countries by providing them special facilities.
Similarly, Indian Railways Catering and Tourism Corporation (IRCTC) operates ' Mahaparinirvan Express 'Buddhist Circuit Special Train for its trips to provide an opportunity for domestic tourist to experience the rich culture and spiritual heritage of India and travel in the footsteps of Lord Buddha. This comprehensive tour package of 7nights/ 8Days includes journey by an exclusive tourist train, hotel accommodation, road transportation in AC Deluxe buses, all meals, sightseeing, entrance fee, tour guide service, travel insurance and onboard security.
This journey of discovery and spiritual fulfillment covers world famous Bodhgaya, Nalanda, Rajgir, Sarnath, Varanasi,Kushinagar, Lumbini (Nepal) Sravasti and Agra. Thousands of tourists and pilgrims from over 30 countries have so far travelled on this special train in the last four years. Nepal lags behind in promoting Buddhist Circuits in comparison to initiatives of India and Srilanka among others.
Though the Government of Nepal had announced VLY 2012 as a national campaign with an aim to attract a million tourists, the Visit Lumbini Year (VLY-2012) failed to connect and promote well known Buddhist Circuits around Lumbini. More than a dozen of Buddhist circuits in Kapilbastu, Rupandehi, and Nawalparasi districts related to Buddha´s life could not be promoted due to lack of plans and programmes on the part of the government and the Lumbini Development Trust.
The recently concluded Nepal-India Tourism Mart 2013 in Lumbini ( January 15-16 ),organized by the Indian Embassy, Kathmandu in association with the Ministry of Culture, Tourism and Civil Aviation (Government of Nepal) and Nepal Tourism Board, committed to work together for development of the birth place of Buddha. Indian Ambassador to Nepal Jayant Prasad emphasized to develop Lumbini through modern technology to lengthen the stay of tourists visiting Lumbini and offered the support of the Government of India to Lumbini in the mart.
As the main objective of organizing the Tourism Mart was to promote the Buddhist sites of both the countries, it is hoped that the concerned bodies of the two countries will explore ways to develop historical places concerned with Lord Buddha in future. , Nepal and India have agreed to work together in promoting major Buddhist religious sites located in the two countries.
Buddhism being a world religion with more than 550 million followers now, its sites have a great attraction for tourists all over the world. It is imperative to develop the Buddhist destinations and promote Buddhist Circuits in national and world tourism market. The Government of Nepal should be committed to improve existing infrastructure, facilitate cross-border visa and entry regulations, protect and develop archaeological sites, expand Bhairahawa airport and allow direct international flights to Lumbini to strengthen Buddhist tourism in Nepal. The plans to attract a million tourist will be a fiasco in absence of promotional activities and adequate infrastructure in Lumbini .
Nepal could learn lessons from the initiatives taken by other countries of Buddhist religion such as Thailand, Japan, China and South-East Asian countries to develop heritage sites related to Lord Buddha – The Apostle of Pace and non-violence.
(The writer is editor of e-news on travel/tourism Travelbiznews.com and former Editor-in – Chief of Gorkhapatra Daily of Nepal.)