Macau 2015 unleashes new dynamics of cultural tourism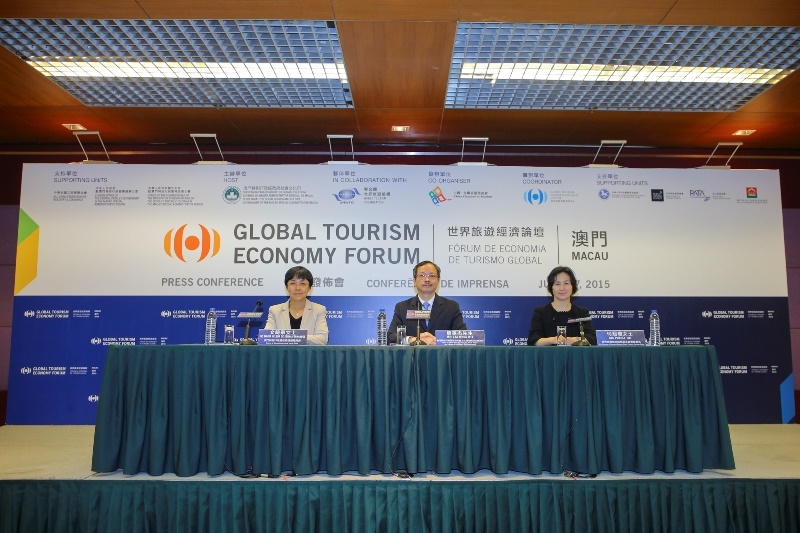 TBN —
Macao : The Global Tourism Economy Forum ("GTEF" or "the Forum"), scheduled to take place at the Venetian Macao from 12 to 14 October, 2015, will unveil an innovative world class dialogue on cultural tourism with the theme of "One Belt One Road – Unleashing New Dynamics of Cultural Tourism".
Chief of Office of the Secretary for Social Affairs and Culture of the Macao SAR Government Lai Ieng Kit , Macau Government Tourist Office (MGTO) Director Maria Helena de Senna Fernandes and Vice Chairman and Secretary-General of Global Tourism Economy Forum Pansy Ho introduced details about this year's program at a press conference in Macao today.( June 17)
To further promote global tourism economy and the development of Macao into a World Centre of Tourism and Leisure, the GTEF will continue to be held in Macao for the coming three editions, starting this year according to a release issued by MGTO.
GTEF is a high-level tourism event hosted by the Secretariat for Social Affairs and Culture of the Macao SAR Government in collaboration with the World Tourism Organization (UNWTO). This year's edition will continue to build upon the premise of the 21st century Maritime Silk Road (MSR), strengthening the tourism development of regions and countries along the MSR.
The Forum is delighted to have the members of the Pacific Alliance (Mexico, Peru, Chile and Colombia), joining as the Featured Partner Countries, and the Zhejiang province, one of the most important provinces on the MSR, joining as the Featured Province.
UNWTO and GTERC will present their second Joint Annual Report on Asia Tourism Trends, which will once again provide an in-depth analysis of the latest development in Asia tourism trend, enabling decision makers to keep their fingers on the pulse of the market.
GTEF has established itself as an influential high-level cooperation platform to promote a new round of development in the global tourism industry with a focus on China. To date, GTEF has attracted over 3,000 participants from 45 countries and regions, welcomed 49 provincial and municipal delegations from Mainland China, and presented 130 world renowned speakers including government ministers, business leaders and scholars on its stage.
June 17, 2015