Maldives and Seychelles – holiday destinations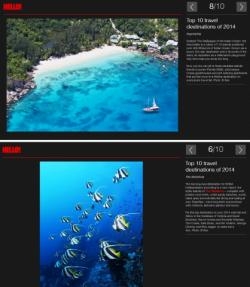 Seychelles : Two Indian Ocean Vanilla Islands have made it on to the Hello magazine Top 10 Holiday Destinations for 2014. "This is great news for the region when we see two of our islands, namely the Maldives and the Seychelles, listed as recommended by the popular and respected Hello magazine," Alain St.Ange, the President of the Indian Ocean Vanilla Islands said.
The visibility of the region as the new tourism region has increased the interest for the seven islands that make up this tourism grouping. The Indian Ocean islands of Comoros, La Reunion, Madagascar, Maldives, Mauritius, Mayotte, and the Seychelles joined together to be seen as the new tourism region. They have been successful in being able to achieve being seen and noticed as a tourism destination in their own right.
The region needed this new approach to differentiate them with other regions, and these tourism islands now all have in their hands the opportunity to reap the benefits of working together.
Maldives and the Seychelles are both very sought-after tourism destinations of the region, and the Maldives are today regarded as the most successful of the seven islands with record numbers in visitor arrivals.
The Maldives is listed as no. 6 and Seychelles as no. 8 on the list by Hello magazine of the Top Holiday Destinations for 2014. These two Indian Ocean Vanilla Islands are listed among the giants of the world tourism destinations namely: Brazil, Bulgaria, China, Cuba, Germany, Scotland, St. Vincent & Grenadines, and the UK.